"Roppongi Art Night 2021" Announced for This Fall!
2021.7.8 [Thu]
Due to the concerns over the outbreak of COVID-19, "Roppongi Art Night 2021" is now postponed. (Updated on 2021.8.26)
It's official, "Roppongi Art Night 2021" is to be held this fall, from Thursday, September 23 to Sunday, September 26. 2021.
As a real and digital hybrid event, "Roppongi Art Night 2021" is picking up from last year's canceled "Roppongi Art Night 2020" and the programs of "Roppongi Art Night Spin off Project" with the theme "Magical Adventure: Find Your Art of Wonder in the Town!"
Our main artist will be Takashi Murakami, one of the superstars in Japanese contemporary art. For this edition's motif, Murakami has chosen "Doraemon." In recent years, the artist has produced a series of works involving the character, with the late Fujiko F. Fujio, the creator of Doraemon. In addition, Murakami has selected a group of artists who will take on the same motif in creating their artworks.
In addition, the event will gather a wide variety of contemporary artworks such as installation, video, and performance works throughout the city, as well as other various video works, performances, and talk programs to be enjoyed digitally through "Roppongi Art Night Digital (including RAN TV)."
Under the spell of art, the city of Roppongi will transform into a magical world filled with mystery. We hope you enjoy this great magical adventure with "Doraemon."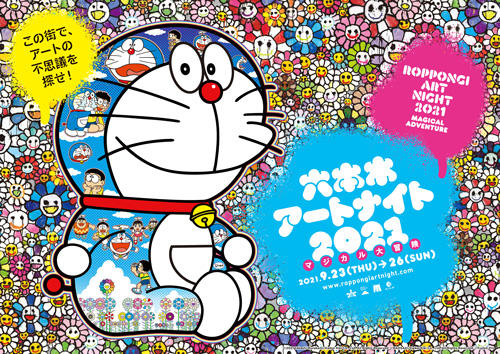 Roppongi Art Night 2021

Period: Thursday, September 23 - Sunday, September 26, 2021. * Select artworks are scheduled to be exhibited from Saturday, September 11.
Venues: Roppongi Hills, Mori Art Museum, Tokyo Midtown, Suntory Museum of Art, 21 21 DESIGN SIGHT, The National Art Center, Tokyo, Roppongi Shopping District, other cooperating facilities and public spaces in the Roppongi district
* Digital YouTube Channel "RAN TV"
Admission: Free * Fee however is required for certain programs and museum events
Website: https://www.roppongiartnight.com/

About "Roppongi Art Night"

Roppongi Art Night is an art extravaganza staged in the district of Roppongi. The event proposes a pioneering model for urban development as well as a lifestyle that celebrates the enjoyment of art in our everyday lives. Presenting contemporary art, design, music, film, and performances, Roppongi Art Night offers an extraordinary experience. Launched in March 2009, "Roppongi Art Night" is growing every year.