Artist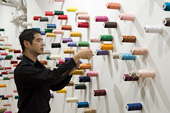 Lee Mingwei
Born in Taiwan in 1964 and currently living in New York City, Lee Mingwei creates both participatory installations, where strangers can explore issues of trust, intimacy, and self-awareness on their own, and one-on-one events, where visitors explore these issues with the artist himself through eating, sleeping, walking and conversation. Lee's projects are often open-ended scenarios for everyday interaction, and take on different forms depending on the participants. Time is central to this process, as Lee's installations often change during the course of an exhibition.
Lee received an MFA from Yale University in 1997, has had solo exhibitions internationally including Whitney Museum of American Art, Museum of Modern Art, and Los Angeles County Museum of Art, and has been featured in biennials in Venice, Lyon, Liverpool (2006, 2010), and at Asia Pacific Triennials.
Sections
Section 1: Thinking Relations, Connections and In-between Space
In the first section, we will focus our attention on "relations," "connections," and "in-between space," including our relations with the people around us and our environment, the relationship between the vast movement of the universe and our own bodies, and the continuous march of history.
Section 2: Walking, Eating, and Sleeping − Rethinking Everyday Action
Here we will take a fresh look at ordinary everyday actions such as "walking," "eating," and "sleeping" based on the Buddhist notion that everything is continually changing and the ensuing emphasis on the "here and now."
Section 3: Thinking Connections of History, Culture, Society through Personal Memories
Here we will consider the impact of relations between Japan and Taiwan, major changes in society and historically significant events on the individual by exploring the personal memories of Lee Mingwei and individuals participating in the projects. Family photographs including those of his grandparents who studied in Japan will also be exhibited.
"Works for Relationality" Section
In order for us to think again about "connections" and "relationality" as well as to understand the historical and cultural contexts that form the backdrop of Lee Mingwei's practice, works and quotations by 11 artists, religious leaders and thinkers will be presented.