---
Project Getting Connected
"Lee Mingwei and His Relations" A selection of views and comments from those who took part in Lee Mingwei's art projects, and the volunteer hosts. Come share their excitement at the show and "get connected" with others!
The Mending Project
Watching The Mending Project, it struck me that the filling of holes that have formed can have many different meanings. And having communication with the hosts and the artist form part of the work made me contemplate the importance of connections between people.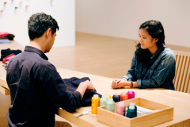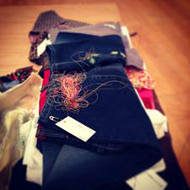 Mingwei-san used colorful thread to mend a pair of my son's jeans he'd managed to rip with his bicycle pedal.
Mingwei-san kindly told my son that the embroidery might come off when he got back on his bike, but not to worry.
It was the most wonderfully warm feeling, as if he had mended our hearts as well with that beautiful thread.
---
The Moving Garden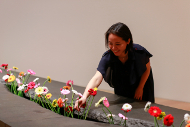 First I chose a flower that took my fancy. Then taking a different route to usual, headed home, wondering who would be the recipient. As it turned out, someone I spotted singing and playing the guitar at my local train station. Passing by once, I then decided he was the one, and went back, thinking that I should also convey my heartfelt thank you on that cold night (for singing and playing). Witnessing his joy was the most moving thing of all.
Rather than simply looking at stuff, like the usual sort of exhibition, I found myself thinking about a lot of different things.
I was carrying on to the theater afterward, so took the gerbera from the museum, and gave it to an actor: mission accomplished.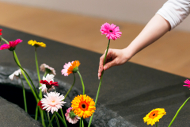 ---
Sonic Blossom
What an incredibly beautiful voice. My heart pounded at those first notes, overwhelmed.
A human voice and yet a voice and resonance not human. It's hard to explain, all I know is that it was singing like I'd never heard before.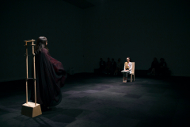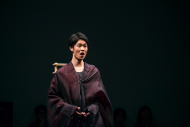 This was my first experience of music in an art museum, so it all felt quite mysterious.
The spotlight shone solely on me and the singer, and it was such a wonderful, special feeling to have a song sung exclusively for me.
---
The Living Room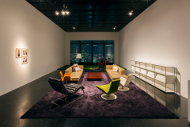 Conversation buzzed among guests who were strangers to each other, with several little circles forming, and as host I too enjoyed witnessing all those new "relationships" emerging.
There was even one guest so impressed by Sonic Blossom that they broke into song in The Living Room (laughs).
At one point this Japanese couple appeared. I asked them if they had got together recently etc., and somehow the conversation took a counseling sort of turn. Which was delightful, even if it did strike me as rather bizarre to be giving out personal advice at an art exhibition…
---
…and more!
It's obvious this exhibition is crammed with the memories and feelings, the ideas of all sorts of people.
Made up of special mementos borrowed from various individuals, perhaps, in a sense, this is true art.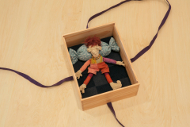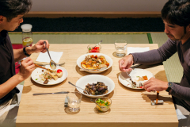 It was all very fresh and interesting.
Too accustomed, I suppose, to the usual mode of art appreciation, I was blown away by exhibits that made me sense space, time, connections with others and the breadth of those connections, all in the same instant!
---
Post your episodes and photos after taking part in Lee Mingwei's art projects!
Details here:
---
News