Starting from and moving " OUT OF DOUBT "
The key phrase for the 4th "Roppongi Crossing" is " OUT OF DOUBT." What did the 3 curators in charge of this exhibition have in mind when they chose this phrase?
In a first for the series, this exhibition is being co-curated by a Mori Art Museum curator and 2 guest curators from overseas. The theme they came up with is " OUT OF DOUBT ."
At a time when Japan is witnessing a heightening of social awareness, the "doubt" directed at socially accepted ideas and existing institutions has become a driving force generating all manner of discussions and activities.
Depending on the context, " OUT OF DOUBT " is open to various interpretations.
The "doubt" of " OUT OF DOUBT " is a complex word with both positive and negative connotations. To "get out of doubt," for example, means to escape from an incomprehensible or uncertain situation, while to "run out of doubt" refers to the feeling of exhaustion that arises from not wanting to entertain any more doubt.
In focusing on the notion of "doubt," this exhibition seeks to inquire afresh into contemporary Japanese society and art in the hope of shedding new light on the truth and essence of things.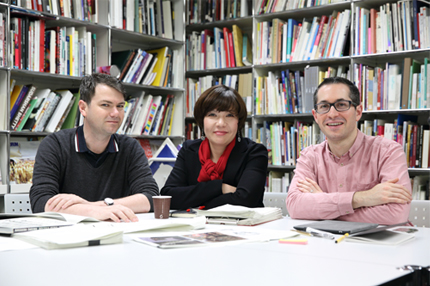 From left to right, Reuben Keehan, Kataoka Mami and Gabriel Ritter
Highlights of the exhibition
The "doubt" cast by each of the participating artists and groups 4 key points in gaining a deeper understanding of the exhibition
To assist in verifying the position of Japanese contemporary art from a global viewpoint, 2 overseas curators in their 30s who are well acquainted with the Japanese art scene, Reuben Keehan and Gabriel Ritter, have been invited to participate. The 29 artists/artist groups have also been selected with greater diversity in mind, and include expatriate Japanese and overseas artists of Japanese descent as well as locally based Japanese artists. In viewing the exhibition, it may help to take note of the following 4 key points.
Revisiting social and historical contexts
Nonsense

The Japanese view of nature and invisible energy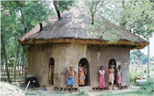 Post-object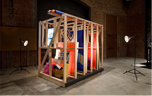 From left to right: Kazama Sachiko Prison NUKE FISSION 235 (2012), Niwa Yoshinori Tossing Socialists in the Air in Romania (2010), Iwata Sohei × Prominority House of Adivasi (2010), Tajima Mika The Extras (2009).
What is Roppongi Crossing?
Once every 3 years, the Mori Art Museum's "Roppongi Crossing" offers a comprehensive survey of the Japanese art scene. This series of fixed-point observation-like exhibitions has a history stretching back to 2004.
"Roppongi Crossing" introduces some of today's most noteworthy artists from a range of genres revolving around contemporary art including painting, sculpture, design, fashion, architecture and media art. Each exhibition is organized by multiple curators who select artists they regard as most representative, from veterans with established careers to up-and-coming youngsters. The result is a series of exhibitions where various artworks "cross" and generate new creative energy and dialogue, providing essential viewing for anyone interested in the latest trends in art.
Previous stagings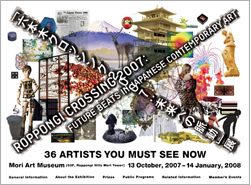 Roppongi Crossing 2007: Future Beats
in Japanese Contemporary Art
October 13, 2007 - January 14, 2008