Dinh Q. Lê listens to the voices of ordinary people in his homeland, Vietnam, and turns their stories into artworks.
The works are highly regarded all over the world, making Lê one of the most successful Asian artists on the international stage today. Over six installments of this blog, we will introduce some of the works currently on display as part of the Mori Art Museum's "Dinh Q. Lê: Memory for Tomorrow" exhibition.
Untitled (Paramount)

At first sight a two-dimensional work, on closer inspection it becomes clear that this piece is made of photographic prints that have been cut into thin strips and woven together like a tapestry. The material includes a scene from the movie Apocalypse Now, a movie company logo and a new photograph, with various images coming to the fore.
Dinh Q. Lê, who in 1978, after the end of the Vietnam War, fled his hometown near the Cambodian border to escape the Khmer Rouge and immigrated with his family to the U.S. at the age of 10, has made a number of works on the theme of the Vietnam War. His own memories, his family's stories and information gained through the U.S. media are mixed together and woven complexly into this series of works that have been dubbed "photo weaving."
Think, for a moment, about your own memories. Perhaps you will notice how things you remember clearly, hazy images and stories you have heard from others become intertwined.
Text: Araki Natsumi (Curator, Mori Art Museum)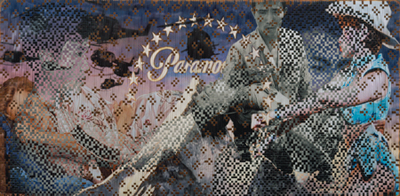 Untitled (Paramount)
2003
C-print and linen tape
101.6×152.4cm
Collection: Ann and Mel Schaffer Family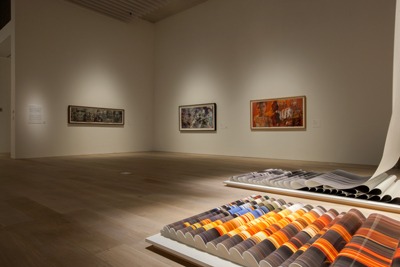 Installation view: "Dinh Q. Lê: Memory for Tomorrow," Mori Art Museum, 2015
Photo: Nagare Satoshi
 
■Relevant Information
・"Dinh Q. Lê: Memory for Tomorrow"
Saturday, July 25 - Monday, October 12, 2015
Untold Stories - Introduction to the Artwork of Dinh Q. Lê
(1)The "Photo Weaving" Series
(2)The Farmers and the Helicopters
(3)Erasure
(4)South China Sea Pishkun
(5)Everything Is a Re-Enactment
(6)Light and Belief: Sketches of Life from the Vietnam War