In the second installment of this blog, we introduce The Farmers and the Helicopters, one of the more dynamic and impressive installations on display at the Mori Art Museum's "Dinh Q. Lê: Memory for Tomorrow" exhibition. It is the work that propelled Dinh Q. Lê onto the international art stage.
The Farmers and the Helicopters

The Vietnam War and helicopters. What kinds of images come to your mind? Many of you probably recall, from Hollywood movies, images of U.S. military helicopters attacking people on the ground.
However, there are some Vietnamese people who became captivated by these helicopters. Tran Quoc Hai, a self-taught mechanic, embarked on the construction of his own helicopter for use in farm and rescue work. This home-made helicopter is actually displayed in the exhibition venue. The video shows Hai speaking passionately about his helicopter as well as other Vietnamese people talking about their memories of encountering enemy helicopters during the Vietnam War.
This work conveys powerfully the artist's desire to "convey the voices of the Vietnamese themselves" regarding the Vietnam War, almost all the information concerning which we get from the U.S.
Text: Araki Natsumi (Curator, Mori Art Museum)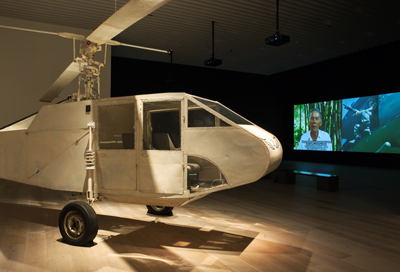 The Farmers and the Helicopters
2006
3-channel color video with sound, handcrafted full-size helicopter
250×1070×350cm,15min
Collaborating artists: Tran Quoc Hai, Le Van Danh, Phu-Nam Thuc Ha, Tuan Andrew Nguyen
Commissioned by Queensland Gallery of Modern Art, Australia
Installation view: "Dinh Q. Lê: Memory for Tomorrow," Mori Art Museum, 2015
Photo: Nagare Satoshi
 
■Relevant Information
・"Dinh Q. Lê: Memory for Tomorrow"
Saturday, July 25 - Monday, October 12, 2015
Untold Stories - Introduction to the Artwork of Dinh Q. Lê
(1)The "Photo Weaving" Series
(2)The Farmers and the Helicopters
(3)Erasure
(4)South China Sea Pishkun
(5)Everything Is a Re-Enactment
(6)Light and Belief: Sketches of Life from the Vietnam War