One day during his visit to Japan Dinh Q. Lê met a lone Japanese man wearing a military uniform. From this encounter a new artwork was born. In the fifth entry of this blog we look at the new work of the artist, Everything is a Re-Enactment.
Everything Is a Re-Enactment

A man wearing a North Vietnamese military uniform crawls through the grass. In another scene, the same man is shown in his own room changing into U.S. military and Japanese Imperial Army uniforms, and later changing into a bartender's uniform at work.
Lê became interested in the fact that this man, who collects militaria, takes part in battle re-enactments, including re-enactments of battles from the Vietnam War as a hobby. Having produced a series of works that take a fresh look at the Vietnam War from different perspectives, Lê was interested in how Japanese people today interpret the war that took place in Vietnam more than 40 years ago.
In this peculiar situation in which the boundary between reality and fiction is blurred, the man talks about the Vietnam War, World War II and the Japanese Imperial Army. Watching him makes us think about the war of 70 years ago, about Japan today, and about Japan of the future.
Text: Araki Natsumi (Curator, Mori Art Museum)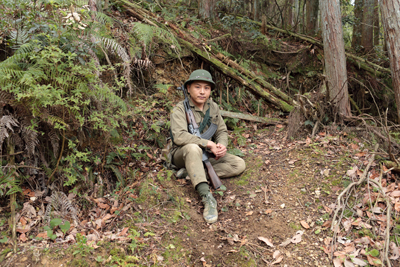 Everything Is a Re-Enactment
2015
Single-channel color video with sound, military uniforms
26 min.
Commissioned by Mori Art Museum, Tokyo, 2015
 
■Relevant Information
・"Dinh Q. Lê: Memory for Tomorrow"
Saturday, July 25 - Monday, October 12, 2015
Untold Stories - Introduction to the Artwork of Dinh Q. Lê
(1)The "Photo Weaving" Series
(2)The Farmers and the Helicopters
(3)Erasure
(4)South China Sea Pishkun
(5)Everything Is a Re-Enactment
(6)Light and Belief: Sketches of Life from the Vietnam War