In the fourth entry of this blog, we introduce South China Sea Pishkun. In this extremely powerful video work helicopters are shown crashing into the sea one after another.
South China Sea Pishkun

One after another, helicopters crash into the sea. This surreal computer-animated video looks almost like a video game.
On April 30, 1975, the South Vietnamese city of Saigon fell to the victorious North Vietnamese forces, bringing the Vietnam War to an end. Immediately prior to this, hundreds of U.S. military helicopters carrying people desperately trying to escape Saigon landed one after another on U.S. aircraft carriers at the sea. In order to make room for the following aircraft to land, many of the helicopters already on the deck were pushed into the sea by crewmembers. Using computer animation Lê recreates this episode, exaggerating it to draw a comparison with the method Native Americans used to hunt bison by chasing them off the cliff formations known as "pishkuns."
The final moments of these helicopters, remembered today as symbols of the Vietnam War, are depicted humorously and with an ironic touch.
Text: Araki Natsumi (Curator, Mori Art Museum)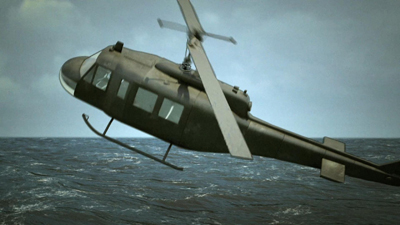 South China Sea Pishkun
2009
3D animation video
6 min. 30 sec.
Collection: Fukuoka Asian Art Museum, Japan
 
■Relevant Information
・"Dinh Q. Lê: Memory for Tomorrow"
Saturday, July 25 - Monday, October 12, 2015
Untold Stories - Introduction to the Artwork of Dinh Q. Lê
(1)The "Photo Weaving" Series
(2)The Farmers and the Helicopters
(3)Erasure
(4)South China Sea Pishkun
(5)Everything Is a Re-Enactment
(6)Light and Belief: Sketches of Life from the Vietnam War