A wooden deck is installed inside the gallery, around which are scattered countless photographs that cover the floor like a sea. Visitors choose a single photograph, which will be scanned and archived on a website by a volunteer. What is the story behind this unique work, Erasure?
Erasure

The chaos of the Vietnam War produced millions of Vietnamese refugees, and Dinh Q. Lê's own family were among the "boat people" who fled to Thailand to escape the Khmer Rouge before immigrating to the U.S. In this work, which was inspired by the artist's concern for refugees whose experiences of being driven from their homelands and seeking refuge in new lands reflects his own, the countless photographs bought at a market in Ho Chi Minh City remind us that each individual refugee has their own personality, life and history.
In the back of Lê's mind when he first exhibited this work in Australia was the tragic sinking of an asylum seekers' boat off Christmas Island on December 15, 2010. The image of the burning sailing ship on the screen calls to mind HMS Endeavour, the ship belonging to Captain Cook, who landed in Australia in 1770, and is a reminder that many of the people who ostracize refugees were once immigrants themselves.
Text : Araki Natsumi (Curator, Mori Art Museum)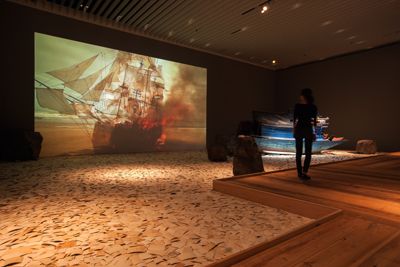 Erasure
2011
Single-channel color video with sound, found photographs, stone, wooden boat fragments, wood walkway, computer, scanner, dedicated website (erasurearchive.net)
Dimensions variable; 7 min.
Commissioned by Sherman Contemporary Art Foundation, Sydney, 2011
Supported by Nicholas and Angela Curtis
Installation view: "Dinh Q. Lê: Memory for Tomorrow," Mori Art Museum, Tokyo, 2015
Photo: Nagare Satoshi
 
■Relevant Information
・"Dinh Q. Lê: Memory for Tomorrow"
Saturday, July 25 - Monday, October 12, 2015
Untold Stories - Introduction to the Artwork of Dinh Q. Lê
(1)The "Photo Weaving" Series
(2)The Farmers and the Helicopters
(3)Erasure
(4)South China Sea Pishkun
(5)Everything Is a Re-Enactment
(6)Light and Belief: Sketches of Life from the Vietnam War