Exhibition Catalogue
The first catalogue published in Japan of the artist Dane Mitchell who represents New Zealand at the 58th Venice Biennale in 2019. The catalogue contains installation views of new work Iris, Iris, Iris, research in Japan done by Mitchell, transcript of talk session between the artist and the president of SHOYEIDO INCENSE CO., Hata Masataka.
Essays by:
Kataoka Mami (Chief Curator, Mori Art Museum)
Zara Stanhope (Formerly Principal Curator, Auckland Art Gallery)
Size: A4 (29.7 x 21 cm)
Number of Pages: 66 pages
Languages: Japanese-English bilingual
Price: 1,100 yen (incl. tax)
Edited & Published by: Mori Art Museum, Tokyo

On sale at: Mori Art Museum Shop
Dane Mitchell Iris Incense
This is a special package of incense used at "MAM Project 024: Dane Mitchell."
The iris incense was manufactured for this exhibition only by Kyoto's long-established incense shop SHOYEIDO. The set contains an incense stand and incense sticks, making it a wonderful gift for anyone.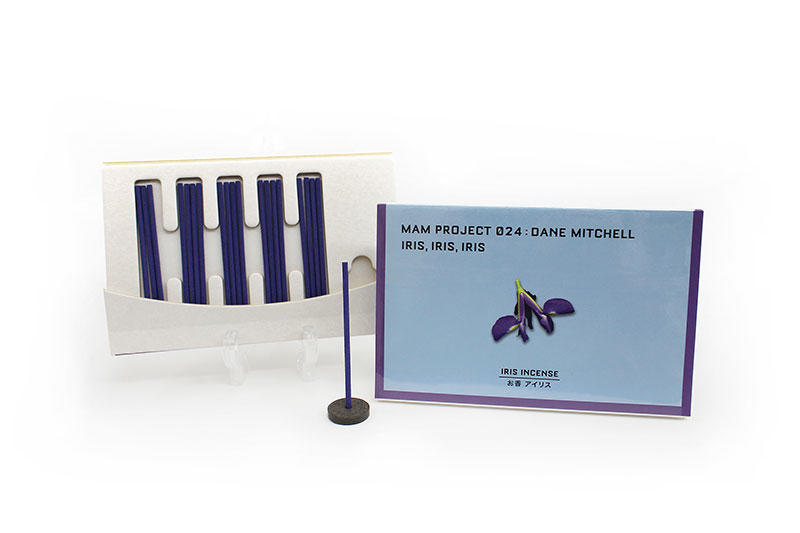 20 pieces / Simple incense stand / Burning time: 20 minutes (per stick)
Price: 1,566 yen (incl. tax)
Manufactured by: SHOYEIDO INCENSE CO.
On sale at: Mori Art Museum Shop
Inquiries: Tel: +81-(0)3-6406-6118