"Meet the Artists" Workshop Series
Noguchi Tappei's Parent-Child Workshop: "Hajimari no Tamatebako: Tonosama-Wakka in the World of Chienowa"
* Booked Out

* Conducted online, in Japanese
Watch the video recapping the "Meet the Artists" series on YouTube!
Video Recapping the "Meet the Artists" Series
---
This "MAM Digital" video showcases "The world of Chienowa" that Noguchi and the workshop participants together created.
Noguchi Tappei's Parent-Child Workshop: "Hajimari no Tamatebako: Tonosama-Wakka in the World of Chienowa"
https://youtu.be/mjhOTheh-HQ
An old man is carrying a whole bunch of pineapples in the middle of the desert. A band of thugs appears and steals three of his pineapples, and they roll the pineapples down a mountain slope. Upon finding the pineapples, an ant consumes them and her jaws become quite strong…
These and many other kinds of strange things take place at a place called "the World of Chienowa," where the ghost called Tonosama-Wakka actually lives!
You participants will first receive a gift from Tonosama-Wakka, called Hajimari no Tamatebako (a secret treasure chest "of the beginning"). Open your treasure chest, and join art explorer Noguchi Tappei to dive into the world of Chienowa!
In this workshop, we will use puppets to act out the mysterious riddles of the world of Chienowa. Who knows, the rooms and computer screens you're always looking at may never look the same again, transformed into something completely new!
* The World of Chienowa: a world where artist Noguchi Tappei tells the story of the mental landscapes he has seen during his travels thus far.
* Tonosama-Wakka: a ghost that lives inside Noguchi Tappei.
* Hajimari no Tamatebako: a secret treasure chest, sent only to the participants of this workshop in advance.
[What to prepare]
A laptop computer (or tablet), masking tape, strings
[What you need to do/prepare before the day of the Workshop]
1. Receive the "Hajimari no Tamatebako" secret treasure chest, sent from the Mori Art Museum.
2. Practice in order to become a "kid computer."
3. Practice "Alps Ichimanjaku" (a variation of the "Yankee Doodle Went To Town" song in Japanese).
* Details on what and how to prepare for this workshop are to be included in the "Hajimari no Tamatebako" sent from the Mori Art Museum.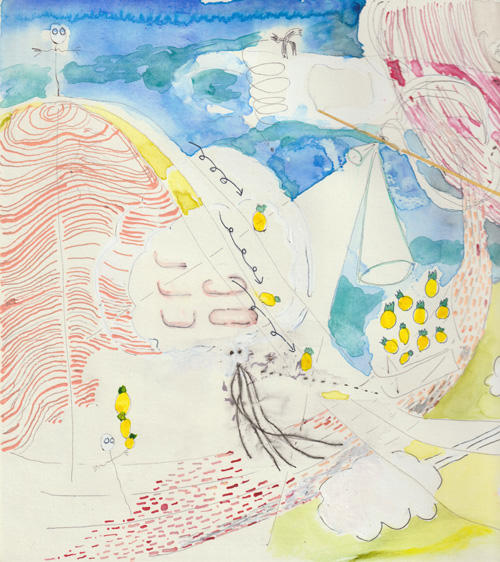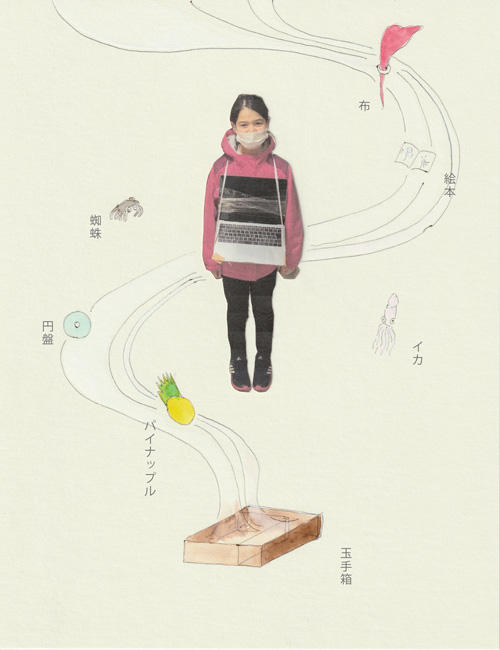 Noguchi Tappei Drawing for "Tonosama-Wakka in the World of Chienowa - Hajimari no Tamatebako" 2021
Appearing

Noguchi Tappei (Art Explorer)

Date & Time

10:30-12:00, Thursday, March 25 and 10:30-12:00, Friday, March 26, 2021
* Note that this workshop will be held over the period of two days.

For

From 6 to 9 years old * Please participate in a pair (one child and one guardian).

Booking Period

Monday, March 8 - 24:00, Monday, March 15, 2021

Results of the Lottery

Results of the lottery will be sent to each person via e-mail by Tuesday, March 16 2021.
- We will sent "Tamatebako" to the winners at a later date.
- Be sure to prepare a laptop computer (or tablet), masking tape, strings upon participating in the workshop.
- Please participate in a pair (one child and one guardian).
- For this program, we will be using "Zoom," a web-based video conferencing system. To attend this event, please have your computer or tablet ready with the "Zoom" app installed beforehand.
- Zoom ID provided to join in this workshop is for the participant only. Do not share with the other persons.
- Review the instructions on the Zoom Video Communications, Inc.'s website listed below and test the connection. Please check whether you can hear the sound in advance.
https://zoom.us/test
- See this information for how to use "Zoom."
Our Requests (to Participants):
- Please leave your device's camera on whenever possible while attending this program, as this makes it easier for everyone to see their reactions mutually, making the program flow more smoothly.
- For protection of your privacy, we'd urge you NOT to use your real name or your full name as your "Zoom" username. Change your username to your first name only, or use a nickname or some other name. You will be able to change your username while attending the program.
- Note that we will be recording video and images of this video conferencing during the Workshop program; and these contents may be reposted on the official websites of Mori Building Co., Ltd. and/or Mori Art Museum, our social media channels or any other promotional/publicity media, among other places. If you do not wish to be included in these video or photo contents, please turn your device's camera off.
- Please refrain from taking audio/video recordings or photos of the session contents, including those of the participants, unless you are given permission to do so during the session.
- Participants who exhibit unruly behaviors may be asked to leave the session.
- Also note that the recordings of this program may be used in the works of Noguchi Tappei, the artist who leads this Workshop; or in materials like publications, websites and publicity-related activities by those connected with said works or artist.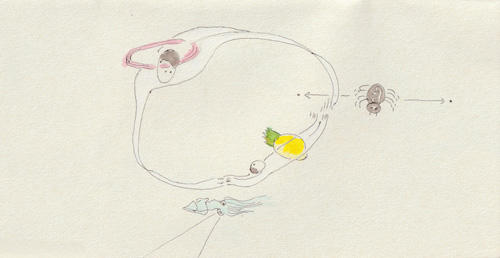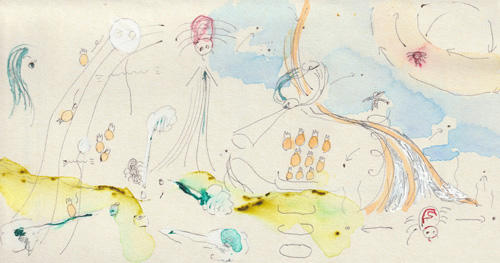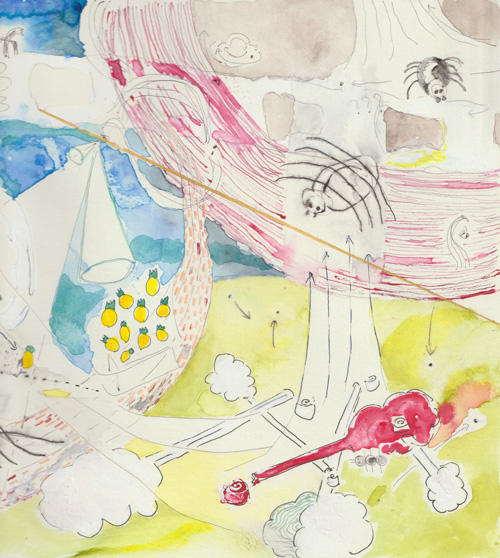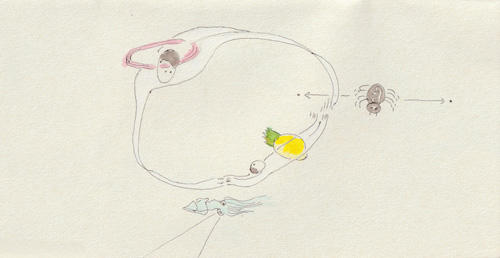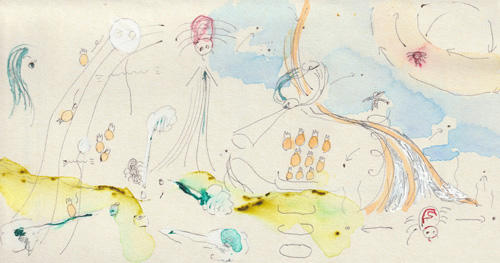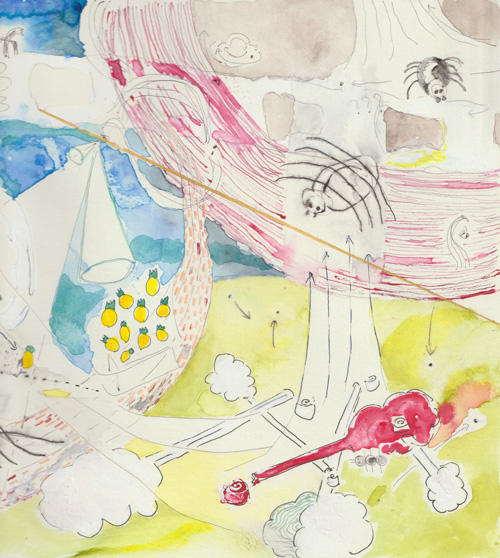 Noguchi Tappei Drawing for "Tonosama-Wakka in the World of Chienowa - Hajimari no Tamatebako" 2021
---
About "Meet the Artists" Workshop Series
From its very beginnings, Mori Art Museum has catered to visitors of all ages via a range of initiatives that include exhibition viewings for schools, and artist-led workshops for preschoolers, elementary and middle school-age children. In May 2020, the Museum launched "LEARNING ONLINE" as part of the "MAM Digital" online program, and the "Meet the Artists" project series is designed to be a new, long-term component of "LEARNING ONLINE." In each edition of the series, participants will be able to meet the artist and/or curator online, and converse with them directly in their own words. The aim will be to offer a fulfilling art experience digitally, in addition to the real-life, physical experience of art in the museum space. Though "Meet the Artists" may not be accessible in a real space, it will doubtless serve as a wonderful opportunity to expand our world together, through the power of imagination.
---
Noguchi Tappei
Born in 1992. Art explorer. Having been exposed to woodblock prints and performance art at Musashino Art University, as well as experiencing conceptual exploration and creative mountain climbing as a member of Waseda University's Exploration Club, Noguchi has come to think about movement or production as an act that encourages mutual interaction between the environment and the spirit. Some of his activities including Hitchhiking to New York and Going around Taiwan While Pulling Tires represent his exploration of the system and spirit that wavers due to the act of movement as the "unknown"; and delve into the beginnings of art that comes from the circumstances occurring at each instant. He dubs this "art exploration," which also includes his inquiries on the records associated with these activities. At present, due to his interest in the spirit of those who wander as well as the actions taken by those who break free from the system, Noguchi is trying to connect the "non-conformists" of all times and places with his own activities, while searching for a vital way to talk about these things.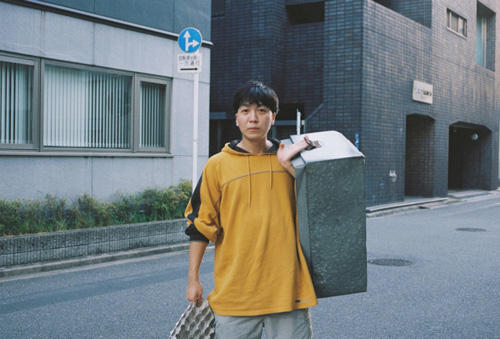 ---
Organizer

Mori Art Museum

Planning by

Learning, Mori Art Museum

Planning Advisor

Noguchi Tappei (Art Explorer)
Notes on Bookings
Please note that speakers are subject to change without prior notice.
Please note that a reply E-mail will be sent to you after submitting the form. If you do not receive the reply E-mail, please contact us.
For bookings, one E-mail address is required per group.
All prices include tax.
Notes on Personal Information
Personal information acquired and retained by Mori Art Museum on the website will be used and managed according to the privacy policy of our company.
Booking forms use SSL encryption to protect your private information.
Registrants will receive "MAM NEWS (Mori Art Museum Mail Magazines)" that deliver the latest news and information about the Mori Art Museum.