Community Engagement Program "Art Camp for under 22, Vol. 8 Connecting Works and People and People" (Three-day Program Program)
Conducted in Japanese
The eighth "Art Camp for under 22" will focus mainly on imagining others through the viewing of artworks in the Listen to the Sound of the Earth Turning exhibition, which takes as its theme the "art of living well" in these pandemic times .Everyone desires to live as their authentic self, and everyone has the right to cultural enjoyment. On the first day of the program, we will consider and discuss the relationship between art and wellbeing. On the second day, participants will try to imagine the best way to describe the attractions of viewing art to a friend next to them, and put it into practice. The third and final day will be about applying the lessons of the previous two, by giving Art Camp participants the chance to introduce exhibitions and works in their own words to people on the Mori Art Museum Access Online Program "Art Online." This "Art Camp" over three sessions will involve thinking in your own words, and imagining someone else beside you.
For

From 13 to 22 years old

Booking Period

Wednesday, June 29 - 24:00, Monday, July 18, 2022
* Note that this workshop will be held 3-days in total.
Day 1: Talk and Discussion "Observing the Life of Artistic Expression, and Breathing Its Spirit: How Are Art and Wellbeing Related?"
Date & Time: 14:00-17:00, Friday, July 22, 2022
Appearing: Horiuchi Naoko (Curator, Arts Initiative Tokyo [AIT]; Director, dearMe)
Day 2: "Workshop to 'Make' Art Appreciation with a Range of People"
Date & Time: 10:00-16:00, Saturday, August 13, 2022
Appearing: Kanamori Kao (Director, THEATRE for ALL), and more
Day 3: "Art Online"
Date & Time: 14:00-17:00, Saturday, August 20, 2022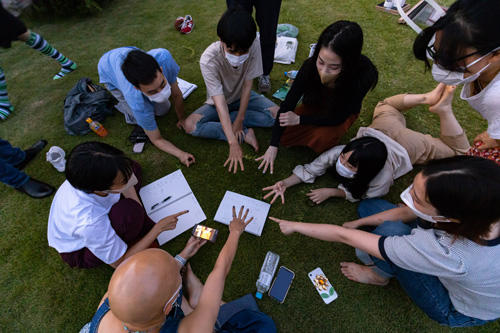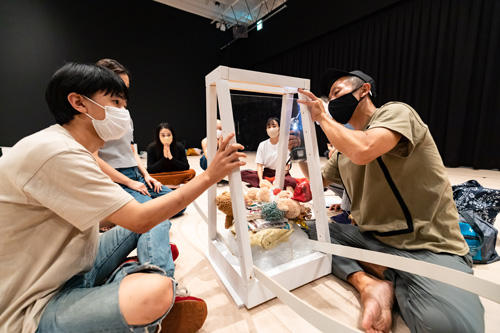 "Art Camp for under 22, Vol. 7 Human Begin: What Are We Doing Tomorrow?," Mori Art Museum, 2021
Photo: Tayama Tatsuyuki
About "Art Camp"
Over the years, Mori Building Company and the Mori Art Museum have collaborated with artists from across the globe to run a variety of programs at the Museum and out on the streets. Summer 2018 saw the launch of a new "Art Camp" program targeting younger art-lovers aged 15 to 22; giving them the opportunity to discuss "contemporary art" with artists and curators in a different environment from the usual school format of "teacher" and "taught," employing the Museum and entire Roppongi Hills neighborhood as a canvas. Talking with others encourages participants to think about current happenings at home or school, historical events, social, political and cultural developments in the wider world, and the connection of all these with contemporary art, helping them to explore interesting and enjoyable aspects of contemporary art.
---
Organizers

Mori Building Co., Ltd., Mori Art Museum

Grants from

Wellcome Trust


Notes on Bookings
Please note that speakers are subject to change without prior notice.
Please note that a reply E-mail will be sent to you after submitting the form. If you do not receive the reply E-mail, please contact us.
For booking, one E-mail address is required per person.
Please note that the museum might take photos/movies for purpose of publicity and documentation during the program.
Notes on Personal Information
Personal information acquired and retained by Mori Art Museum on the website will be used and managed according to the privacy policy of our company.
Booking forms use SSL encryption to protect your private information.
Registrants will receive "MAM NEWS (Mori Art Museum Mail Magazines)" that deliver the latest news and information about the Mori Art Museum.