New Catalogues and Documentation Book Now on Sale! MAM Project and MAM Research
2020.8.6 [Thu]
The exhibition catalogues of MAM Project (025 / 027) and documentation book of MAM Research 007 that ran concurrently with Mori Art Museum's main exhibitions are now on sale at the Museum Shop.
MAM Project 027: Tala Madani
Catalogue

The is the catalogue of artist Tala Madani's first exhibition in Japan. Madani is with dual Iranian/American cultural heritage, and has forged an international career with a satirical style skewering modern society and its headlong rush toward globalization.
In addition to installation views of the exhibition, essay by the curator which includes the explanations of the not-exhibited works as well as biography and bibliography, it also contains an interview with Tala Madani in the middle of the COVID-19 pandemic. This marks the first long-awaited publication of Madani's in Japan, introducing us a part of her wide-ranging activities.

MAM Research 007: Sodeisha - The Dawn of Contemporary Japanese Ceramics
Documentation Book

MAM Research 007 analyzes the significance of Sodeisha in the history of Japanese contemporary ceramic art. Along with archival materials, Nakamura Yuta, artist and co-curator of the exhibition, presents an experimental installation analyzing the "transition of form" seen in contemporary ceramics. This documentation includes photographs of works by Sodeisha artists, other archival materials, installation views, and essays by curators.

MAM Project 025: Apichatpong Weerasethakul + Hisakado Tsuyoshi
Catalogue

Synchronicity, a brand-new installation collaboration between Apichatpong Weerasethakul and Hisakado Tsuyoshi garnered so much attention as to be invited to the 58th Venice Biennale (2019), after MAM Project 025 ended. This catalogues includes installation views, essays by the curator of the exhibition and a researcher, and photographs of the work taken during the production process to analyze the artwork from various angles.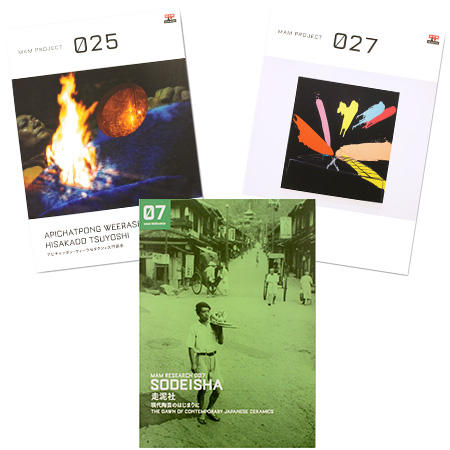 Specs
Size: A4 (29.7 x 21 cm)
Number of Pages: 60 (MAM Project 027); 64 (MAM Project 025, MAM Research 007)
Languages: Japanese-English bilingual
Price: 1,100 yen (incl. tax)
Edited and Published by: Mori Art Museum
Date of Issue: July 31, 2020
On sale at: Mori Art Museum Shop
Inquiries: +81-(0)3-6406-6118