"Innovative City Forum 2020" Organized Online Later This Month!
2020.11.12 [Thu]
Japanese-English simultaneous interpretation available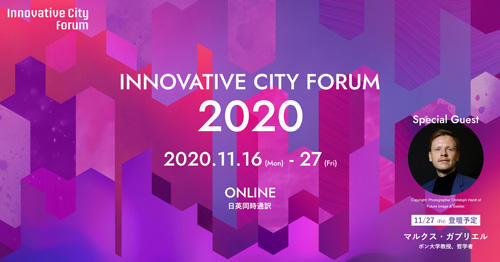 Innovative City Forum (ICF) is an international conference that originally sprang from the desire to explore the future of cities and lifestyles through discussions based around a fundamental question: "What will our lives be like 20 years from now?" ICF has had the honor of hosting many distinguished speakers from around the world, from researchers and businesspeople at the forefront of technological and urban development to designers, artists, and other creative leaders, who have fueled our discussions with their ideas and visions for the future and the possibilities it offers.
In eighth edition this year, ICF focuses on the theme "The Pandemic and Innovative Cities," and hold the conference online.
Appearing

Special Guest: Markus Gabriel (Professor, University of Bonn / Philosopher)
Program Committee Members: Takenaka Heizo, Ichikawa Hiroo, Nanjo Fumio
Speakers: James Bridle, Ito Asa, Hamada Keiko, Fujisawa Kumi, Miyata Hiroaki, Caroline A. Jones, Yasuda Yosuke, Miyake Yoichiro, Yamamoto Tatsuhiko, Kubota Akihiro, George Kunihiro (and 36 others)
"Innovative City Forum 2020"
Period

Monday, November 16 - Friday, November 27, 2020

Admission

"ICF2020 Free Viewing Ticket" will be free of charge, but booking is required.
"Follow-up Session Ticket": 1,100 yen each (incl. tax) * 20 tickets for each session

How to Join

Once your registration is complete, web link will appear on your "My Ticket" page on the day of your Session. Click the link to view.

Booking and details

http://icf.academyhills.com/en/
* Book before 13:00 on Friday, November 27, 2020 as it will be closed then.