New Podcast Launch Alert!
"HILLS LIFE DAILY" x Mori Art Museum Another Energy Exhibition, Supported by CINRA
2021.8.5 [Thu]
* In Japanese-language only
On the "HILLS LIFE DAILY" platform, a new podcast in collaboration with the Mori Art Museum Another Energy exhibition called "HILLS LIFE DAILY podcast" has launched.
The first episode, out of the six-episode series, kicked off on Thursday, July 29.
The series features an emcee Nomura Yume plus three guests, Tsuji Asako (Creative Director), AKKOGORILLA (Rapper), and Mitarashi Kana (Clinical Psychologist).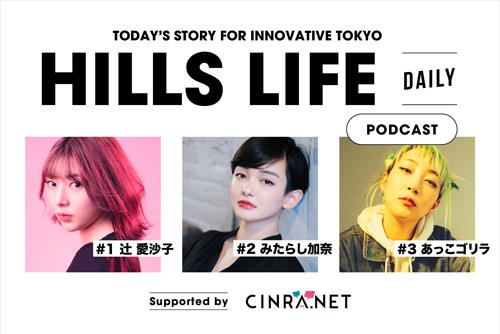 Another Energy is the exhibition currently ongoing at the Mori Art Museum that focuses on 16 female 'veteran' artists from across the globe. They all began their careers as contemporary artists between the 1950s and 1970s in the male-dominated art world and still continue to stay active as artists today.
In the podcast series, three guests in different fields who are trying to resonate the voices of the people that feel "judged," or "not understood" will share their thoughts and experiences, and the way to overcome their difficulties, shedding light on the societal issues on the whole along with the new power or "another energy" waiting to happen.
Podcast
・Spotify
https://open.spotify.com/show/6Cajz5qXRB30X34xRhz46r
・Apple Podcast
https://podcasts.apple.com/us/podcast/hills-life-daily-podcast/id1577312456
・Google Podcast
https://podcasts.google.com/feed/aHR0cHM6Ly9hbmNob3IuZm0vcy81ZmFhMmRmMC9wb2RjYXN0L3Jzcw==
HILLS LIFE DAILY is the media suggesting ways to enjoy urban life at HILLS where "something" brand-new and exciting takes place.
https://hillslife.jp/