"MAMC Night" Featuring the Heatherwick Studio Exhibition to Be Held on Friday, March 31, 2023!
2023.3.10 [Fri]
The Fellow and Benefactor Member event "MAMC Night" is now scheduled for Friday, March 31, 2023.
The latest "MAMC Night" features the Heatherwick Studio exhibition which will open at the Tokyo City View from March 17, 2023.
At the MAMC event, Kataoka Mami, Director of the Mori Art Museum, and curator of the exhibition will introduce Heatherwick Studio's projects, followed by a talk with our special guest, architect Fujimoto Sou, and a free gallery viewing.
Be sure to take advantage of this exclusive opportunity only for the MAMC members.
---
MAMC Night

* Conducted in Japanese

Date & Time

19:00-22:00, Friday, March 31, 2023

Venue

Academyhills (49F, Roppongi Hills Mori Tower)
Tokyo City View (52F, Roppongi Hills Mori Tower)

For

MAMC Fellow & Benefactor Members

Number of Accompanied Companions Allowed

Up to a companion for Fellow, and up to 2 companions for Benefactor
* Please note that members and their companions are requested to enter at the same time.
* Members, please be sure to attend the event if you have companion(s).

Capacity

80 (bookings required, first-come basis)

Admission

Free for all participants
Timetable

19:00

Commentary on Heatherwick Studio exhibition (Kataoka Mami)

19:20

Special Talk (Fujimoto Sou x Kataoka Mami)

20:30

Move from 49F to 52F

20:40

Free viewing @ Heatherwick Studio exhibition
* Please note that above schedule is subject to change.
Booking

1. Log in to the "Museum & Observatory Tickets | Membership Website."
2. Go to the top page, and click on "MAMC Night."
3. Enter the facility by showing your e-ticket displayed on your "My Page."

* Please see the mail news "MAMC MEMBERS' EXPRESS" delivered on March 2, 2023 for details. (Mail news is sent to members who have requested to receive mail news in Japanese language.)
* If you are not a MAMC Fellow/Benefactor Member yet, please become the member first from the "Museum & Observatory Tickets | Membership Website" and then book your tickets.

Application Deadline

Thursday, March 30, 2023
* Please note that bookings may close once the number of bookings reaches the capacity.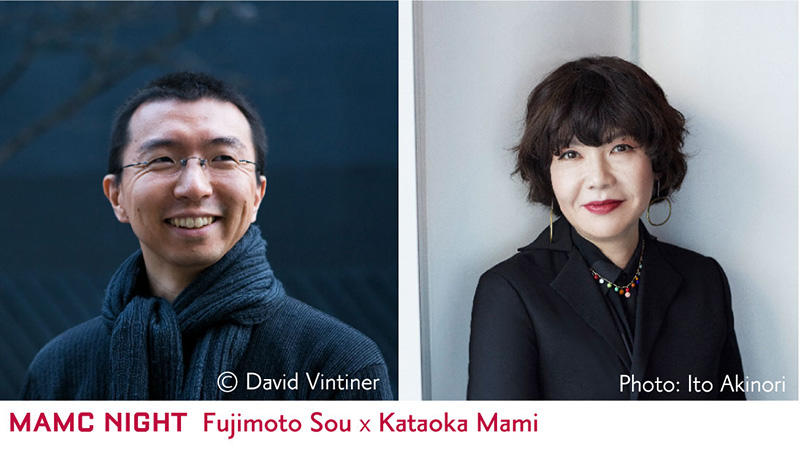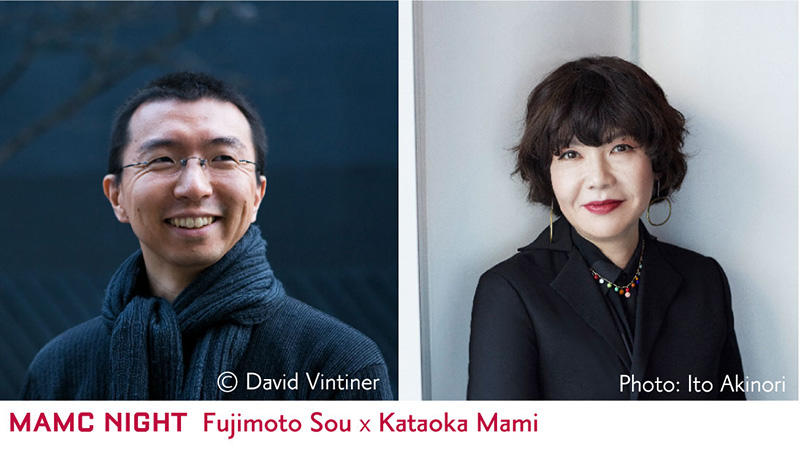 Notice Regarding Photo/Movie Shootings
Please note that the Mori Art Museum might take photos for the purpose of documentation during the program.
MAMC Membership
MAMC is a Membership program designed to provide a more in-depth experience of the Mori Art Museum (MAM) and Contemporary art (C). In addition to free admission to exhibitions, MAMC Members enjoy a range of benefits including exclusive events. Applications for individual or corporate membership are welcomed at any time.
About MAMC Membership