SECTION 2

The Universe as Space-Time

Black holes that suck up even stars; the fact that the starlight we gaze on now comes to us from hundreds of millions of light years away; the wonders of space – 11 dimensions of it apparently – and astounding advances in astral observation that have revolutionized our perceptions of space and time, all presented as works of contemporary art.
Participating Artists
Vija Celmins
Björn Dahlem
Andreas Gursky
Jia Aili
Mori Mariko
Trevor Paglen
Semiconductor
Conrad Shawcross
Wolfgang Tillmans
among others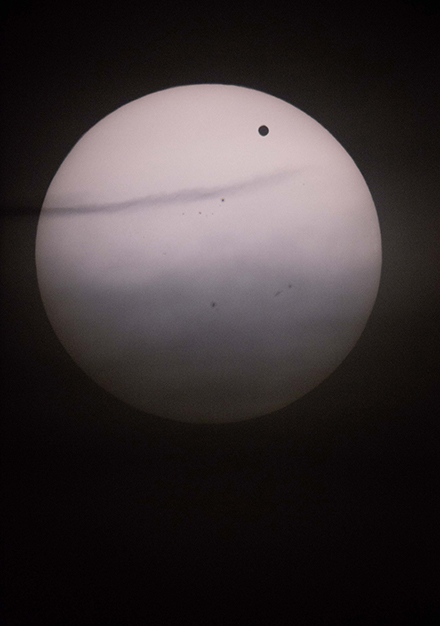 Wolfgang Tillmans
Transit of Venus
2012
Inkjet print on paper
44 × 33 cm (approx.)
Collection: Wako Works of Art
The Cosmos as Presented by Stars of the Contemporary Art World
Includes installations made from mundane materials yet evoking a profound spirituality and cosmic phenomena by Björn Dahlem, Wolfgang Tillmans' photographic works of deep space stars captured by ultrasensitive telescope juxtaposed with images of computer pixels, and large-scale painting produced especially for the exhibition by Jia Aili.
Plus an Array of Immersive Installations
Conrad Shawcross's huge kinetic installation Timepiece, a piece on the artist's enduring theme of "time" that expresses and arranges into a work of contemporary art the sundial – one of the first scientific methods employed by human beings when they began to measure time – and the sublime astronomical time experienced in relationship to the sun, offers visitors the initially contradictory, unimaginable experience of creating a primeval experience, via artificial sunlight. Meanwhile, Brilliant Noise, Semiconductor's three-channel video installation of thousands of overlapping documentary images of solar activity, which expresses the sun's intensity in sound, projects the massive waves of energy discharged by the sun's thermonuclear fusion onto three giant screens that surround the viewer, coinciding changes in sound offering an experience akin to sensing the very pulse of the sun.