---
Yoo Seungho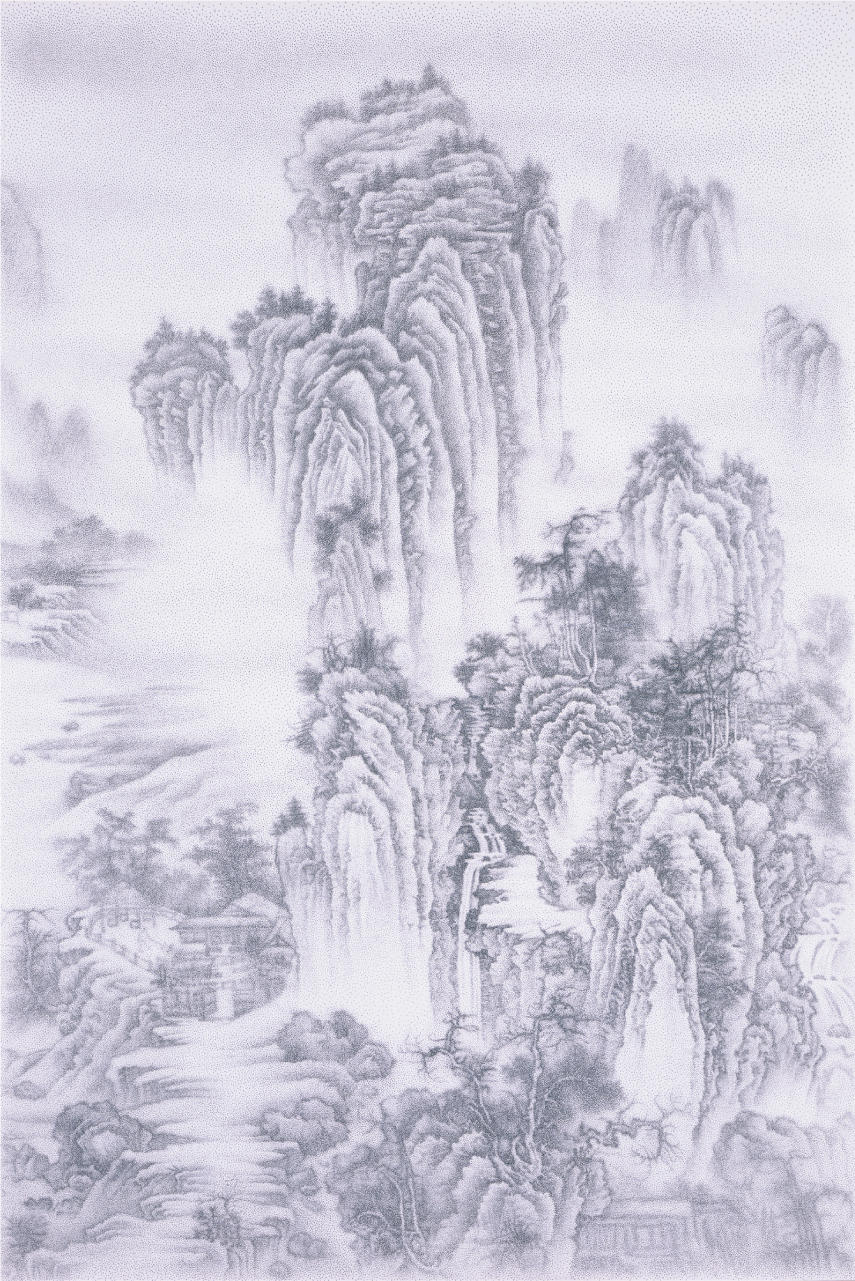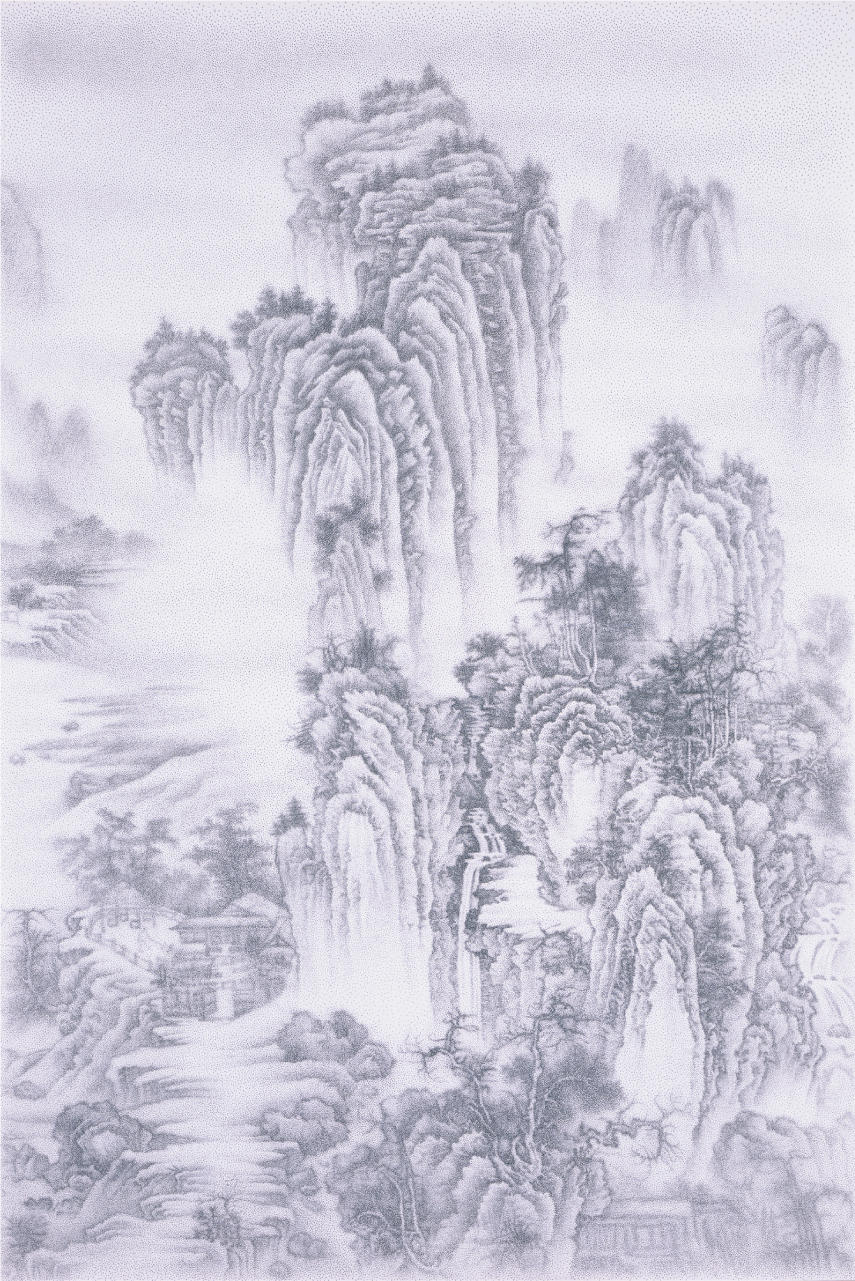 DADA
This stirring landscape painting was created using countless, extremely small renderings of the Chinese character "多," which can be pronounced "ta" or "da" in Korean. The character means "many" or "countless," but the repetition of the element within each character also brings to mind the avant-garde modern and contemporary movement Dadaism and evoking the babbling of infants before the acquisition of speech. People likely to feel surprised and amazed when they notice that what at first glance appears to be a sublime, traditional painting on closer examination turns out to be made up of tiny characters, and recognize their meaning and pronunciation, and how the style with which they are rendered changes, as if they were the result of idle doodling.
Yoo Seungho
Born 1974 in Seocheon-gun, Chungcheongnam-do, South Korea. Lives and works in Seoul.
Yoo Seungho began creating art in the latter half of the 1990s, and has been exhibiting internationally since the early 2000s. His ink-drawn art looks like landscape paintings at first glance, but closer examination reveals a surprise - the fact that the scenes are made up of accumulations of small characters. Constituting both written text and images, Yoo's 'text painting' art focuses on the relationship between writing and drawing.
Since many of these tiny characters and words are mimetic or onomatopoeic in nature with no meaning in and of themselves, they actually stimulate the viewer's imagination by evoking certain states or actions or by appealing to the ear. The repetition of characters written with light and dark ink also brings to mind graffiti, in which people write their own names or a symbol all over the place with a spray can, or training that forces you to repeat the same action over and over again. By adding an element of humor through mixing the beauty of a traditional landscape painting with graffiti or doodling in this way, Yoo seems to be intending to breathe new life into it as contemporary art.
Yoo's solo exhibitions include echowords at Mizuma Art Gallery (Tokyo, 2007) and Miss Lamella at CR Collective (Seoul, 2019). His works have been exhibited internationally including The Elegance of Silence: Contemporary Art From East Asia at Mori Art Museum (Tokyo, 2005), the 5th Asia-Pacific Triennial of Contemporary Art at Queensland Art Gallery (Brisbane, Australia, 2006), Modest Monuments: Contemporary Art from Korea at King's Lynn Art Centre (the UK, 2008), and How to create a landscape at National Museum of Contemporary Art, Korea (Cheongju, 2020). He was awarded the prize of Seoknam Art Award (South Korea, 2003).
---
Nawa Kohei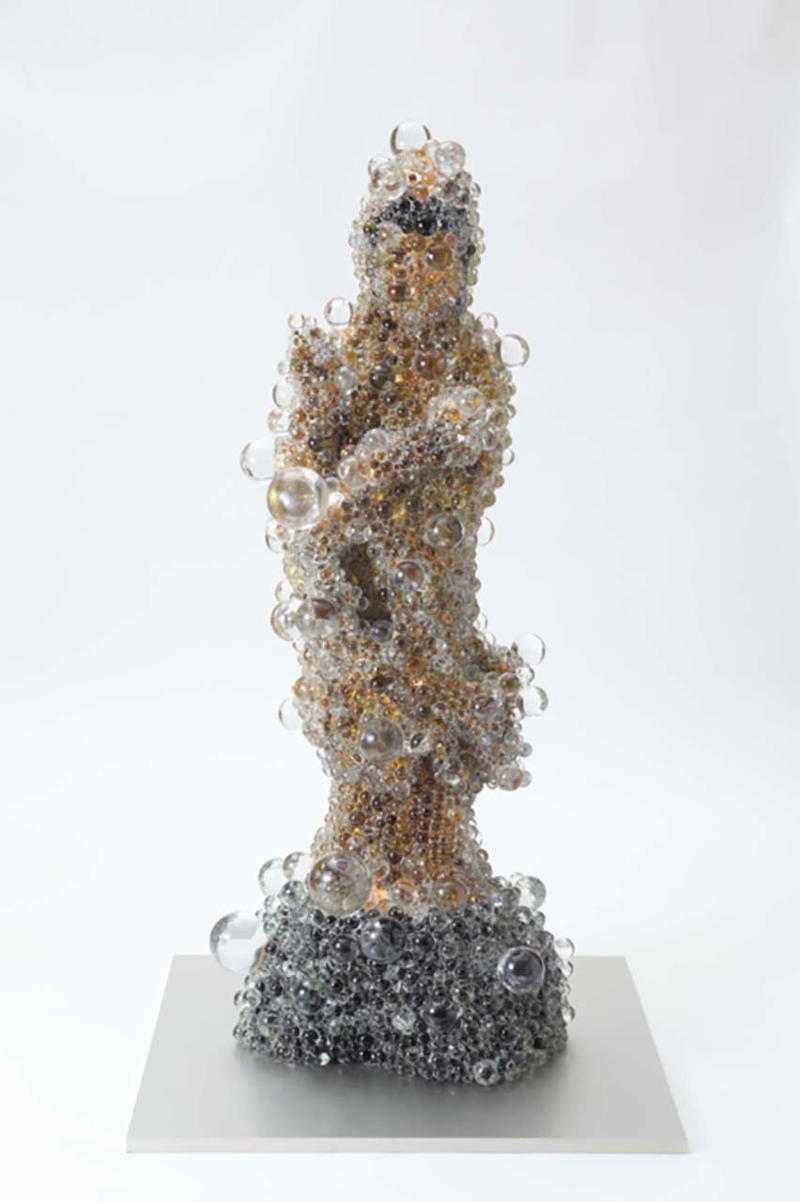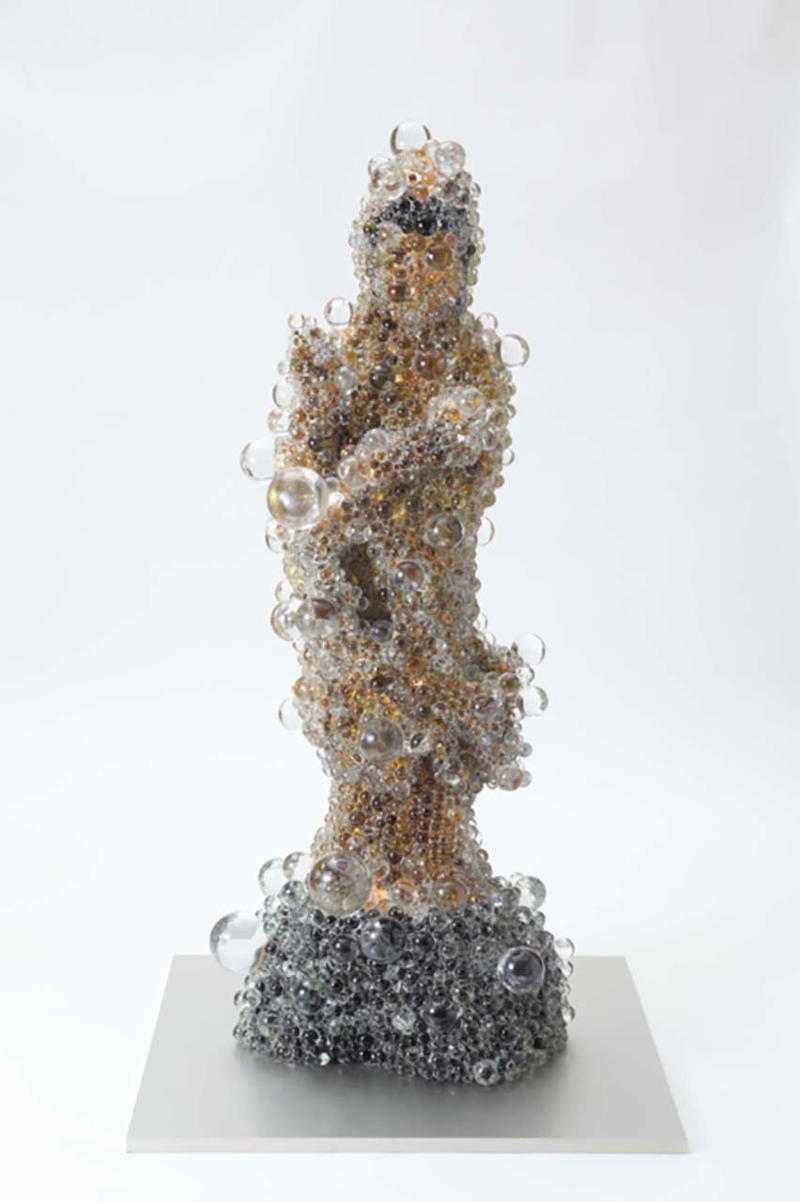 PixCell-Kannon#7
By covering this kannon (Goddess of Mercy) that he purchased on the internet with transparent spheres ("cells"), Nawa Kohei adds physical material to the texture of images that were first seen through pixels on the computer screen. This is one of the pieces in Nawa's series entitled PixCell, a term he coined by combining "Pixel" (picture element) with "Cell." Both a Buddhist object of worship and a product bought in a virtual space, Nawa's kannon can be said to connect the Pure Land with this earthly realm.
Nawa Kohei
Born 1975 in Osaka. Lives and works in Kyoto and Tokyo.
Active throughout the world and as the Director of Sandwich Inc., a platform for creative activities in Kyoto, Nawa Kohei has been working in media such as sculpture, installations, architecture and photography since the early 2000s. He has also participated in many collaborations with creators in different fields including contemporary dance.
Nawa has expanded the range of artistic expression through a flexible interpretation of the meaning of sculpture, using the concept of the cell as a symbol of the information age to create parallels between skin, the perceptual interface of living cells and organisms, and the external surface of sculpture. At the beginning of the 2000s, he presented his first works in the "PixCell" series, in which he covered objects collected via the internet with transparent spheres. Since then, he has presented a variety of different series of works, including Direction, which is produced by dripping pigment over the canvas in line with gravity, Force, in which silicone oil demonstrates gravity in action by continuously transforming into countless threads that fall from the ceiling, Biomatrix, where bubbles are produced on a liquid surface, Foam, in which bubbles form enormous volumes, and Trans, the sculpture created using a three-dimensional modeling system. He also designed the art pavilion Kohtei, and produced the trilogy of performance works VESSEL, Mist, and Planet [wanderer] in conjunction with Belgo-French choreographer and dancer Damien Jalet.
Nawa's major solo exhibitions include Kohei Nawa - SYNTHESIS at Museum of Contemporary Art Tokyo (2011), and Kohei Nawa - SCULPTURE GARDEN at Kirishima Open-Air Museum (Kagoshima, Japan, 2013), while his sculpture Throne was exceptionally exhibited in the Louvre Pyramid, France in 2018. His works also have been exhibited at Aichi Triennale 2013 and Reborn-Art Festival 2017 (Miyagi, Japan) among others. Nawa is the recipient of prizes such as the Sakuya-Konohana Award (2004), the Grand Prize at the 14th Asian Art Biennale Bangladesh 2010, the Kyoto New Artist Award (2012), and the Distinguished Service, Kyoto Prefecture Cultural Award (2018).
---
Odani Motohiko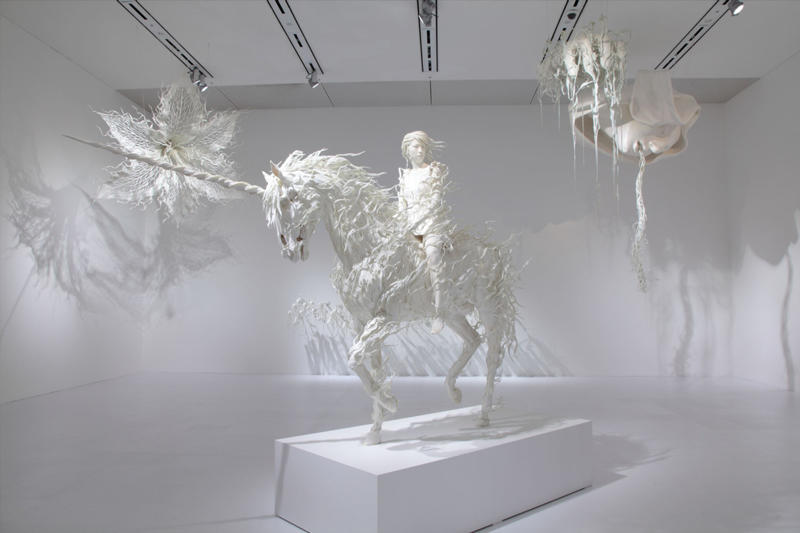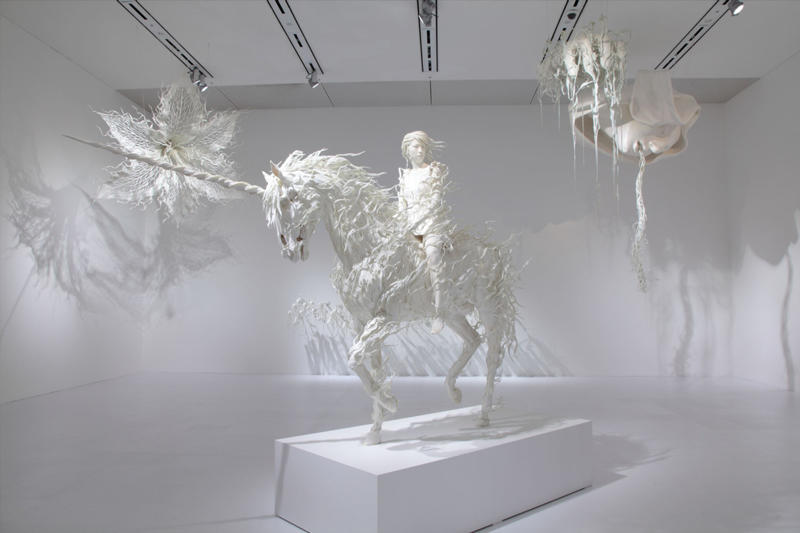 Hollow: What rushes through every mind
"Hollow" is a series of sculptures existing as folds of air cloaked in an invisible aura of buoyancy emanating from mind and body, halfway freed from the downward pull of gravity. The forms in which light and white-colored FRP has the appearance of lace represent the duality of light and darkness, along with a sense of floating by being affected by gravity in a variety of different directions and emerging through the contrast of light and shade. This fascinating white unicorn and girl, free from gravity and the rules of this world, also appear to be spirits returning from the afterlife.
Odani Motohiko
Born 1972 in Kyoto. Lives and works in Tokyo.
Odani Motohiko, who began his career in the latter half of the 1990s, is active internationally and has created a diverse range of art, including classical wooden carvings, sculpture using various materials such as hair and furs, sculpture incorporating computer graphics, 3D, and machines, as well as photography, video, and installations. Odani was born and raised in Kyoto City, where he came to know and cherish the beautiful, quiet architectural spaces and Buddhist statues of Buddhist temples and Shinto shrines, and became familiar with the production of special effects. This background can be seen in his habit of examining Japanese sculpture from multiple perspectives, aware of the distinctive developments it has undergone. The phantom limb phenomenon, in which a person feels as if a limb he or she has lost is still there, is an important theme for Odani, and he states that sculpture that expresses the materiality of things through 'shape' also attempts to capture the 'hollowness' or 'other side' that lies beyond the 'shape.' Therefore, one could say that the "Phantom Limb" series is about exploring gray areas like the area that lies between existence and non-existence, awakening and somnolence, and human and non-human. It includes the idea of 'the lost body and the remaining body' that Odani got from the experience he had in 2017 when half of his own heart became necrotic due to a myocardial infarction. The series can also be seen as synonymous with exploring sculpture.
Odani's major solo exhibitions include Phantom Limb at P-House Daikanyama (Tokyo, 1997), Phantom Limb at Mori Art Museum (2011, traveled to three other museums), MOTOHIKO ODANI: DEPTH OF THE BODY at Albertz Benda, New York (2016), and Tulpa - Here is me at ANOMALY (Tokyo, 2019). He received the Project Prize of Guarene Arte 99 by Fondazione Sandretto Re Rebaudengo (Turin, Italy, 1999), Denchu Hirakushi Award (2011), and the Minister of Education, Culture, Sports, Science and Technology's Art Encouragement Prize for New Artists (2012).
---
Yanagi Miwa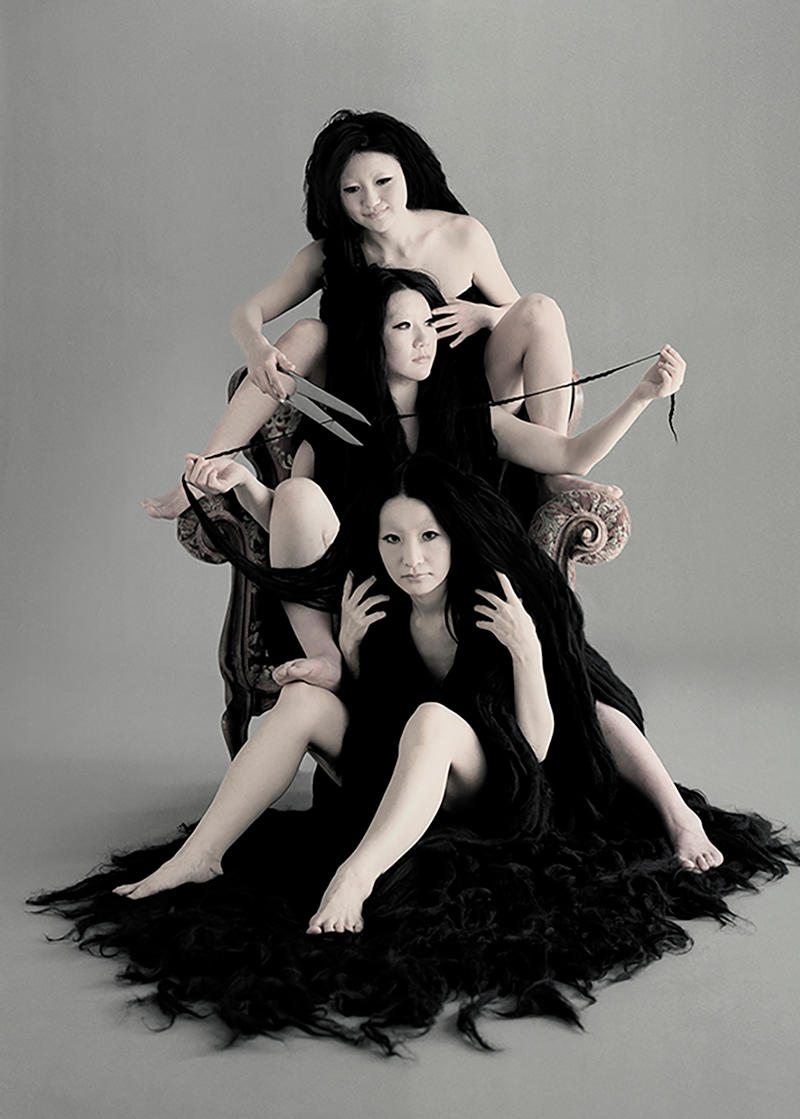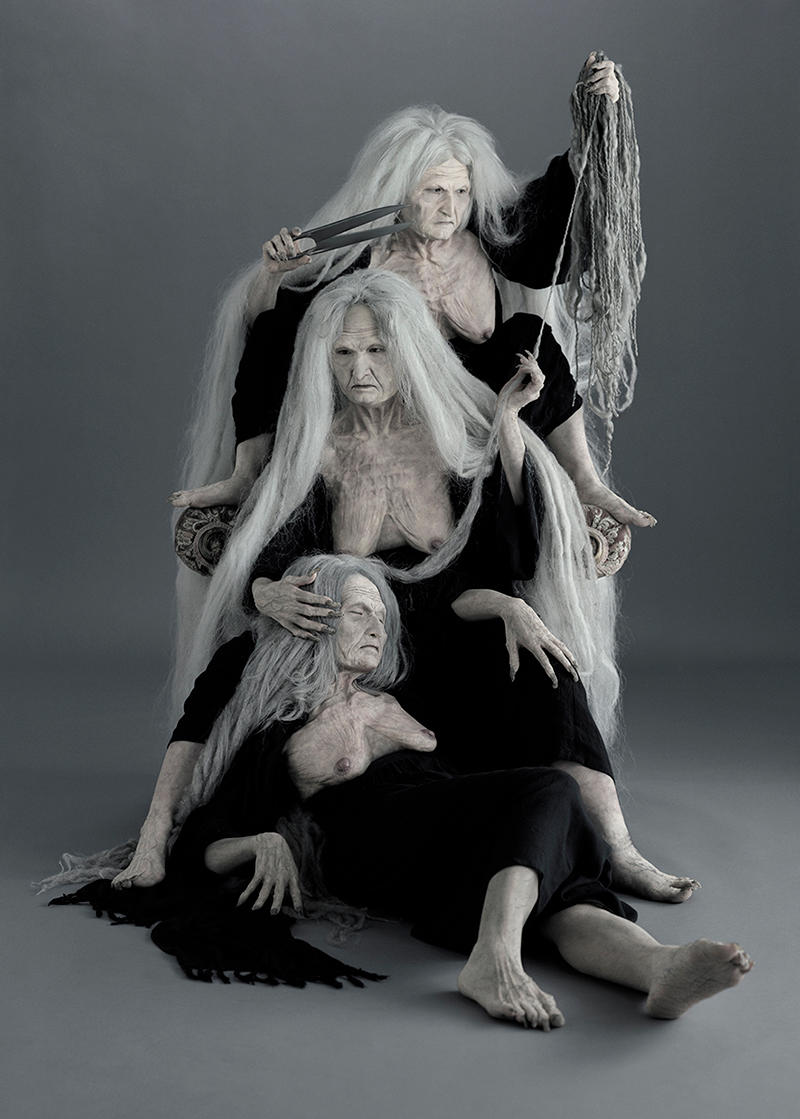 The Three Fates
This work deals with the Moirai, the three goddesses who determined human destinies in Greek mythology. They were Clotho, who spun the "thread" of human fate, Lachesis, who dispensed it, and Atropos, who cut the thread. This work suggests that even beautiful goddesses who control fate cannot escape aging. Nevertheless, it also suggests that the women, being deities, can also restore their youth, hinting that on a psychological level, notions of 'young' and 'old' are not necessarily absolute.
Yanagi Miwa
Born 1967 in Hyogo. Lives and works in Kyoto. Yanagi Miwa, who began her career in the 1990s, is active internationally, engaging in diverse forms of artistic expression that include photography, installations, performances, theatrical productions, and automatic performances of plays using machines. Her photographic series, such as Elevator Girls (1994-1998), My Grandmothers (2000-), and Fairy Tales (2004-2006), have conducted critical examinations of women's place in society and gender. Yanagi began producing theatrical plays based on modern Japanese history in 2011, performing works throughout Japan, as well as in the United States and in Canada, such as the 1924 trilogy (2011-2012) - Tokyo-Berlin, Sea Battle and Machine Man - which depicts the Shinko Geijutsu movement of the Taisho Period, Panorama (2012) centering on the panorama pavilions of the late Meiji Period, and Zero Hour: Tokyo Rose's Last Tape (2013), about the Japanese radio programs that were broadcast to the American military during World War II. She held outdoor performances of Nakagami Kenji's Wings of the Sun using a trailer as the stage in 2014, and her "Stage Trailer Project" has been touring Japan since 2015. She has been producing the photographic series The goddess and the god separate under the peach tree, which deals with mythology since 2016, and presented automatic performances of plays using machines in 2019. In 2021, she presented the Taiwanese opera Aphrodite Orchid, about the orchid Phalaenopsis aphrodite, in collaboration with Taiwanese opera troupes in Taiwan.
Yanagi's major solo exhibitions include MIWA YANAGI at Deutsche Guggenheim Berlin (2004), Yanagi Miwa: My Grandmothers at the Tokyo Metropolitan Museum of Photography (2009), Miwa Yanagi Po-po Nyangnyang! at the National Museum of Art, Osaka (2009), MIWA YANAGI: Myth Machines at Takamatsu Art Museum (2019, traveled to four other museums from 2019 to 2020). While representing the Japanese Pavilion at the 53rd Venice Biennale (2009), she has been awarded the VOCA Award (1999), Sakuya-Konohana Award (2000), Hyogo Prefectural Artist Prize (2004), Takashimaya Art Prize (2006), the 30th Kyoto Art Culture Award (2018), Kobe City Culture Award (2019) among others.