Urgent Talk 039: Post-Plantation and the Creation of a New White Cube
- Global Museum Launch of Renzo Martens' White Cube and Talk
Japanese-English simultaneous interpretation available

"Urgent Talk 039," a program consisted of a film screening followed by a talk (discussion), was streamed on the Mori Art Museum's Vimeo channel just for three days from April 22 to 24, 2021 as part of the simultaneous global museum launch of Renzo Martens' film White Cube.
The discussion segment of it will be streamed for free on YouTube.

Japanese: https://youtu.be/WVhCsjMK-O4
English: https://youtu.be/r8GLhtH6L7o

The film White Cube is available as a VOD on Vimeo until May 15, 2021.
CATPC will use the proceeds of the paywall to buy back and restore their land.

Renzo Martens White Cube
* Please note that Japanese subtitles are not provided.
Available until: May 15, 2021
Rent: $5.00 / 72-hour streaming period
https://vimeo.com/ondemand/museumlaunchwhitecube/523784544
* This program will be streamed online via Mori Art Museum's Vimeo channel.
* Booking is not required.
* Click the link below to watch the program.

Streaming Period
10:00, Thursday, April 22 - 23:59, Saturday, April 24, 2021 * Streaming period ended

Japanese: https://vimeo.com/539130947/0491b7fef0. (The film will be screened with Japanese voice over.)
English: https://vimeo.com/539433546/8cebd0e393
Mori Art Museum is pleased to host a streaming of the film White Cube (2020), directed by the artist Renzo Martens in collaboration with The Cercle d'Art des Travailleurs de Plantation Congolaise (CATPC). The streaming will be followed by a dialogue between Martens, Ced'art Tamasala (Artist, Member of CATPC), Fujii Hikaru (Artist), moderated by Kataoka Mami (Director, Mori Art Museum).
In 2012, Renzo Martens founded the research project Institute for Human Activities (IHA) with the Royal Academy of Fine Arts in Gent, Belgium. IHA operates to critique the history and present conditions of colonialism, plantation, and exploitation of labor in Africa, aiming to remedy economic inequality through art. Since 2014, IHA has collaborated with CATPC, an organization in Congo where members participate in workshops to create sculptures. Following Marten's idea, molds are made from these sculptures using 3D printing technology and then reproduced as chocolate sculptures, which are exhibited and sold around the world. With the proceeds, CATPC acquires land in the country and develops a new economic model, an alternative from the exploitative plantation system. This collaboration takes place in a former plantation field in Congo, where they built a fully equipped arts center "White Cube" designed by OMA. In 2018, Mori Art Museum invited Martens and CATPC to exhibit these chocolate sculptures in the exhibition Catastrophe and the Power of Art.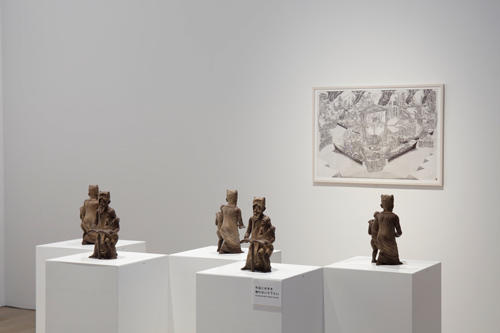 This iteration of Urgent Talk is part of the global museum launch of White Cube, a film that documents CATPC's success in ending the destructive system of monoculture on their lands. This global launch is jointly hosted by 13 institutions worldwide from March 24 through April 24, 2021. Each participating institution will host a screening and discussion while the film is projected daily onto the walls of the White Cube. Access the link below for the preliminary list of participating institutions and event dates.
https://www.humanactivities.org/en/
Streaming Period

10:00, Thursday, April 22 - 23:59, Saturday, April 24, 2021

Speakers

Renzo Martens (Artist), Ced'art Tamasala (Artist, Member of CATPC), Fujii Hikaru (Artist)

Moderator

Katoaka Mami (Director, Mori Art Museum)
* The film will also be available on-demand throughout the four weeks behind a $5.00 paywall. CATPC will use the proceeds of the paywall to buy back and restore their land. Please note that Japanese subtitles are not provided in this on-demand streaming. 72 hours viewing period.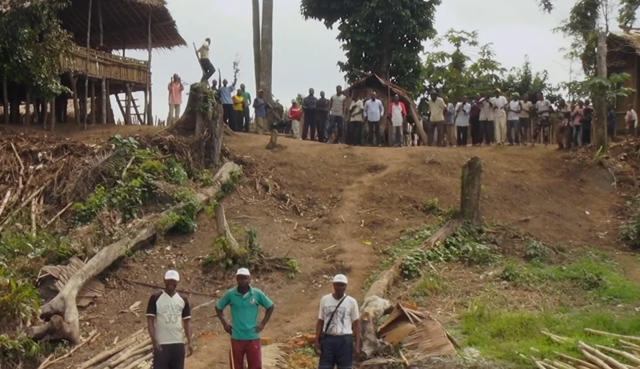 Renzo Martens
Renzo Martens was born in 1973 and is currently based in Amsterdam, the Netherlands. He studied political science and art, and gained international recognition with the films Episode I (2003), and Episode III: Enjoy Poverty (2008), which was televised in more than 23 countries. In 2012, Martens established the Institute for Human Activities (IHA) and its Gentrification Program in the Democratic Republic of Congo. Together with the plantation workers of Congolese Plantation Workers' Art League (CATPC) he uses artistic critique to redress economic inequality - not symbolically, but in material terms. Consequently, they opened an OMA-designed White Cube on a former Unilever plantation in 2017. The work of the CATPC has been shown in an exhibition in Sculpture Center (New York, 2017) and in the 21st Biennale of Sydney (2018).
Ced'art Tamasala
Ced'art Tamasala was born in Katanga, the Democratic Republic of Congo in 1986. He completed one year of studies at the Académie des Beaux-Arts. There he met two great figures of popular painting, Chéri Cherin and Cheri Samba, who passed on to him the desire to paint. He is the vice-president of CATPC, the Congolese cooperative of plantation workers who use critical art to develop a new and inclusive ecological model. With their sister organisation IHA, CATPC have built White Cube in Lusanga (DRC). CATPC's debut solo show in the United States was included in the "Best Art of 2017" list of the New York Times. Other recent exhibitions include the 21st Biennale of Sydney and at Kunsthal Charlottenborg in Copenhagen.
Fujii Hikaru
Fujii Hikaru was born in 1976 in Tokyo. Lives and works in Tokyo. Fujii's films, installations, workshops, and writings explore the relationship between art and social activism. When revisiting a specific historical incident or present-day situation involving domination and exploitation, the artist undertakes extensive research and fieldwork to explore the potential of critique over that power and the sociopolitical systems supporting it. Fujii's recent exhibitions include Catastrophe and the Power of Art (Mori Art Museum, 2018), Things Entangling (Museum of Contemporary Art Tokyo, 2020), among many other, and participated in Aichi Triennale 2019: Taming Y/Our Passion (Nagoya City Art Museum, 2019).
Our Requests to Viewers
- To watch the streaming, please have your computer, tablet, or smarphone ready.
- Please refrain from taking audio/video recordings or photos of the session content.
Notes
Please note that content are subject to change without prior notice.