Community Engagement Program: "TSUMUGU Project: TSUMUSHOKU PROJECT"
Another Energy Related Program
Conducted in Japanese
The TSUMUGU Project is a participatory art project that began in 2017 to commemorate the 15th anniversary of Roppongi Hills. Through this project, both its founders as well as those who live or work in Roppongi along with those with some connection with the urban area have given thought to what the future of this area will be like, while tracing back its history.
Roppongi is home to communities that have developed over a long period of time, and the roles of each member/component of the communities have naturally existed along with the passage of time. In our program this time, although the physical distance between people is greater due to the COVID-19 pandemic, we will be focusing on the topic of "food" as a wellspring of energy, in an attempt to provide a new perspective to our everyday lives. When it comes to energy, we have also taken a hint from the ongoing Another Energy exhibition and will be focusing on and giving shape to the energy that Roppongi has, as well as how that relates to us.
We will carefully select what's to be transformed into the energy for each of us to possess, and we will create the "recipe" for this energy.
As this project will be continuing amidst the COVID-19 pandemic, we intend to carry out these activities through the year in a way that is safe and free of worries.
Activity Days

#1 Meet & greet, project briefing
10:00-12:00, Sunday, May 30, 2021 (online)

#2 Pre-project consultation meeting
9:00-12:00, Friday, June 25 and 9:00-12:00, Sunday, June 27, 2021 (both online)

#3 Photo sessions
9:00-18:00, Sunday, July 11; Monday, July 12; and Friday, July 23, 2021

#4 Review meeting
10:00-12:00, Sunday, September 26, 2021 (online)

Eligibility

・ Those with ties to the Roppongi/Azabu area and are interested in the activities.
・ Those who can participate in the full schedule of activities
* Note that participants will be accepted regardless of age or specialized knowledge and experience in art or other fields.

Booking Period

Monday, May 10 - 24:00, Monday, May 17, 2021

Results of the Lottery

Results of the lottery will be sent to each person via e-mail by Thursday, May 20, 2021.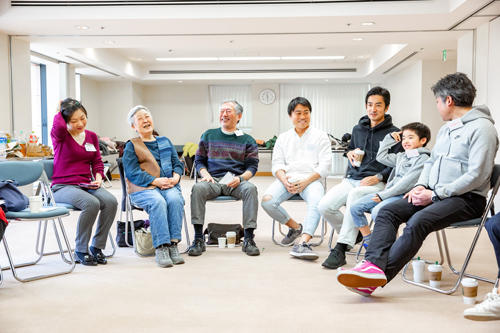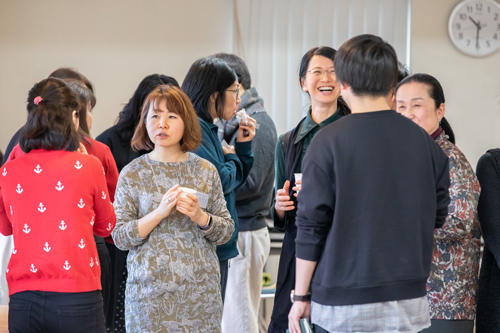 Community Engagement Program "Weaving Project - Let's Shape Your Storytelling Together"#1 (February 8, 2020)
Photo: Tayama Tatsuyuki
Organizers

Roppongi Hills Neighborhood Association, Mori Art Museum, Mori Building Co., Ltd.

Project Partner

NPO inVisible Kikuchi Hiroko (Artist/Creative Director)
---
NPO inVisible

NPO inVisible offers a creative locus, developing projects and giving expert consultation for community development, creative placemaking, education and other societal challenges.
Notes on Bookings
Please note that speakers are subject to change without prior notice.
Please note that a reply E-mail will be sent to you after submitting the form. If you do not receive the reply E-mail, please contact us.
For bookings, one E-mail address is required per person. Please use different E-mail address for different booking.
Notes on Personal Information
Personal information acquired and retained by Mori Art Museum on the website will be used and managed according to the privacy policy of our company.
Booking forms use SSL encryption to protect your private information.
Registrants will receive "MAM NEWS (Mori Art Museum Mail Magazines)" that deliver the latest news and information about the Mori Art Museum.