Members-only Event "MAMC Night" on Tuesday, August 6!
2019.7.22 [Mon]
This edition of members-only event "MAMC Night" scheduled on Tuesday, August 6, 2019, welcomes Tatehata Akira, Poet / President of Tama Art University as a special guest, and he will be performing a poetry reading.
It will be a collaboration of poetry reading by Tatehata and performance by violinist Tajimi Tomotaka, after which we will have a talk event. As a matter of fact, Tatehata introduced Shiota Chiharu, artist active overseas then, to Japanese art community for the first time by inviting her to the Yokohama Triennale 2001 as one of the directors. He will share some of the memorable episodes along with Mori Art Museum Director Nanjo Fumio, who was also one of the directors at Yokohama Triennale 2001. We hope you'll enjoy this unique event.
MAMC Night

* Japanese-English simultaneous interpretation available

Date & Time

19:00-22:00, Tuesday, August 6, 2019 (Doors Open: 18:45 / Last Admission: 21:30)

Venue

Mori Art Museum (53F, Roppongi Hills Mori Tower)

Registration

Mori Art Museum Information (3F, Roppongi Hills Mori Tower)

For

Open to all MAMC members (Benefactor and Fellow)

Number of accompanied guests allowed

Up to 2 guests for Benefactor, and up to 1 guest for Fellow
* Please note that members and their accompanying guests are requested to enter at the same time.
* Members, please be sure to attend the event if you have guest(s)

Capacity

80 (bookings required)

Admission

Free for all participants

Booking Deadline

Sunday, July 28, 2019
* Please note that bookings may close once the number of bookings reaches the capacity.
* Please refrain from cancelling after the booking deadline.

Timetable

18:45

Doors Open


19:00-19:40

Poetry Reading / Performance


19:45-20:30

Talk Event


20:30-22:00

Free Viewing (Last Admission: 21:30)
* Please note that above schedule is subject to change.

Booking 

For MAMC members: here
To be a MAMC member, details here
* If you are not a member yet, please see the membership webpage
Profile
Tatehata Akira

Born in Kyoto. Graduated from School of Letters, Arts in French literature, Waseda University. Tatehata was Professor of Art at Tama Art University, Director of the National Museum of Art Osaka, and President of Kyoto City University of Art before taking the current position in 2015. President of Tama Art University, Director of Yayoi Kusama Museum, Chairperson of The Japanese Council of Art Museums. As a poet, he has received Rekitei Prize of New Poet, Takami Jun Award and Sakutaro Hagiwara Award.

Tajimi Tomotaka

Born 1990 in Tokyo. Started playing violin at the age of 4 and the world music at the age of 18. He studied Irish fiddler under Kunugi Takehiro, Cuban music under Lázaro Dagoberto González and Manuosh swing under Tim Kliphuis. Active at such venues as Daikanyama O'KOK, J. A. Seazer and Akumanoie, puis, etc. The nostalgic warmth of the violin sound and its piquant musicality are full of unique "mystery."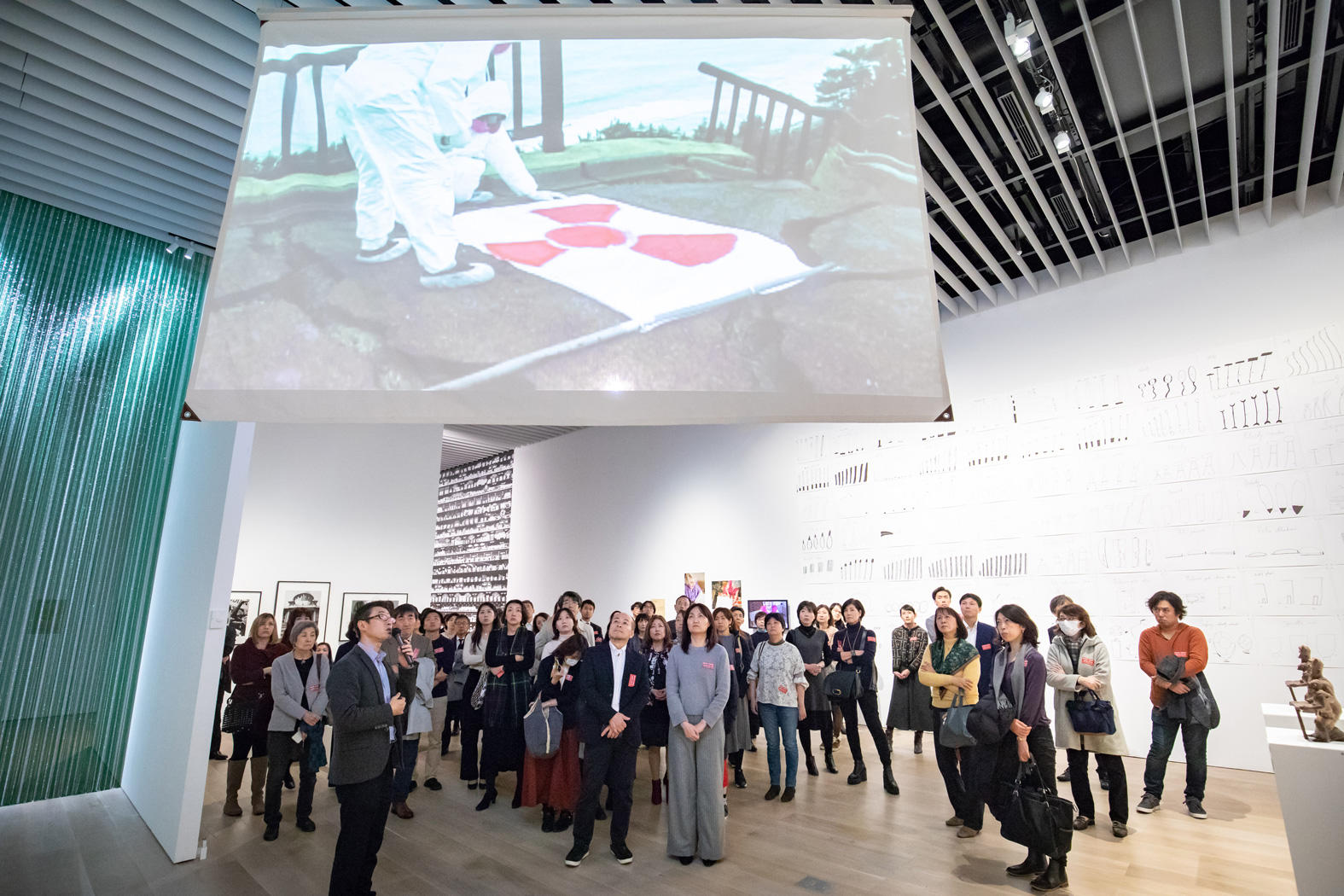 About Event Report
Please note that reports on MAMC events, which may include photographs taken at the events, will appear from time to time on the Mori Art Museum website.
MAMC Membership
MAMC is a Membership program designed to provide a more in-depth experience of the Mori Art Museum (MAM) and Contemporary art (C). In addition to free admission to exhibitions, MAMC Members enjoy a range of benefits including exclusive events. Applications for individual or corporate membership are welcomed at any time.
About MAMC Membership