Mori Art Museum 20th Anniversary: Looking Back at the Museum's 20-Year History with the Director's Message, Videos & Infographics
2023.10.18 [Wed]
The Mori Art Museum is celebrating its 20th anniversary today, on Wednesday, October 18, 2023. We will look back at the 20-year history of the Mori Art Museum through some videos and graphics.
Director's Messsage: Kataoka Mami (Director, Mori Art Museum)
Mori Art Museum's 20 Years As Seen in World Map and Infographics
The Mori Art Museum has organized numerous major exhibitions and small exhibition programs, as well as a number of learning programs for the 20 years since its opening.
Check out the world map showing approximately 1,600 names of artists and artist units that have been showcased at the Mori Art Museum by their place of origin, in addition to the infographics on the total number of visitors to date, number of learning programs and so on, in the PDF format.
- Mori Art Museum's 20 Years by Numbers 2003-2023 (PDF/0.98MB)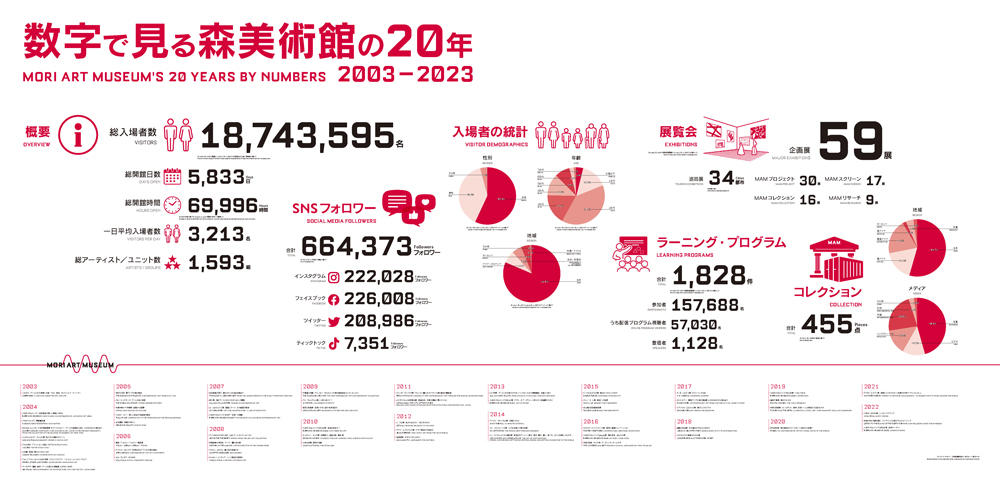 - Artists around the World Who Have Participated in the Mori Art Museum Exhibitions (PDF/2.42MB)
* "Mori Art Museum's 20 Years by Numbers 2003-2023" will be displayed at the gallery exit for the duration of the Our Ecology exhibition.
* Please refer to the respective PDF files for the period covered by the infographics.
Interview videos: "My Encounter with Contemporary Art - Voices from Mori Art Museum's Learning Program Participants"
The Mori Art Museum have so far carried out 1,828 learning programs and 157,688 people have participated in them.*
Children that participated in the programs when younger have all grown up, and the art has become essential to their lives. We have interviewed those participants.
(* Numbers provided here are from October 2003 to December 2022.)
Click here to watch the videos.
Interviewees: Go, Masaru, Haruto, Aoyama Junior High School, Minato-ku, Tokyo, Natsuki, Hana, and Daisuke
* Interview videos will be on display in the Our Ecology exhibition at the entrance hall.