Community Engagement Program
"SUNSHOWER" Exhibition x Funakoshi Masayo
"Sacred Food" Roppongi Art Night Version
* Booked Out

SUNSHOWER Related Program
Conducted in Japanese
Booking on this website is closed.
Please inquire with us if you would like to participate in the program.
Conducted in Japanese
As part of the "Community Engagement Program" hosted by Roppongi Hills & Mori Art Museum, the "Sacred Food" event held in July will be recreated just for one night during Roppongi Art Night. Funakoshi Masayo, known for her fusion of food, culture, art, and design, will be serving dishes inspired by artists currently participating in the "SUNSHOWER: Contemporary Art from Southeast Asia" exhibition.
Enjoy Southeast Asian cuisine while watching the short film documenting the July event.
Date & Times

3 rounds, September 30 [Sat], 2017
* Multiple seatings / Booking required
* Registration will start from 15 minutes prior to starting time of each round.
* This program is not served in buffet style.

#1 20:00 start * Sold out
#2 22:00 start * Sold out
#3 24:00 start

Supervised by

Funakoshi Masayo

Dishes served by

Green Asia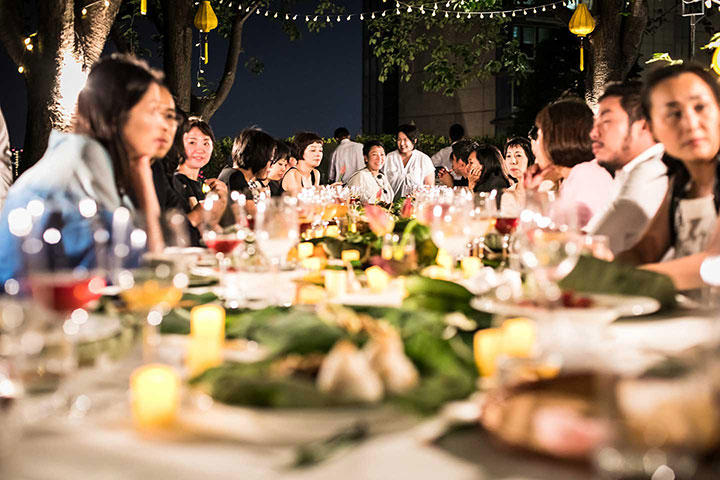 Event image: Community Engagement Program "Sacred Food," July 6, 2017
Photo: Mikuriya Shinichiro
"Sacred Food" Short Movie (July 6, 2017)
Notes on Bookings
Please book from "EventRegist." * To use the "EventRegist," you need to first create your account.
We do not accept cancellations, and no refunds can be made.
To obtain a receipt, go to the "My Tickets" screen and then click on "Show Receipt Data" under "Your Order."
The registered personal information will be used only for operational and contact purposes for the event(s).
Please note that speakers are subject to change without prior notice.
All prices include tax.
Notes on Personal Information
Personal information acquired and retained by Mori Art Museum on the website will be used and managed according to the privacy policy of our company.