Artist Talk "Antropocosmos - The Architecture of Reality"
Japanese-English simultaneous interpretation available
* Booked Out

Leandro Erlich Related Program
Japanese-English simultaneous interpretation available
Leandro Erlich defines "reality" as the antropocosmos the structures created by the many deities, the rituals, the science, and belief systems such as philosophy, that human beings have devised over the millennia in their attempts to understand the world around them. In this talk, the artist will reference this concept to discuss his works.
Date & Time

19:00-20:30, November 20 [Mon], 2017 (Doors Open: 18:30)

Speaker

Leandro Erlich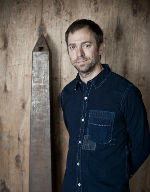 Leandro Erlich Profile
Born 1973 in Buenos Aires, Argentina. Currently based in Buenos Aires and Montevideo, Uruguay. He has participated in a number of international exhibitions such as Whitney Biennial 2000 (New York), The 49th Venice Biennale (2001), The 26th São Paulo Biennial (2004) and Liverpool Biennial 2008 (U.K.), as well as "Paris-Delhi-Bombay..." held at Centre Pompidou (Paris, 2011). He's had solo exhibitions at MACRO - Museo de Arte Contemporaneo in Rome (2006), MoMA PS1 (New York, 2008), Espacio Fundación Telefónica (Madrid, 2017), Neuberger Museum of Art (New York, 2017) among others. In Japan, he participated in The Echigo-Tsumari Art Triennale (Niigata, 2006/2012) as well as Setouchi Triennale 2010 (Kagawa, 2010), and in 2014 held his first solo exhibition in Japan at 21st Century Museum of Contemporary Art, Kanazawa.
Notes on Bookings
Please book from "EventRegist." * To use the "EventRegist," you need to first create your account.
We do not accept cancellations, and no refunds can be made.
To obtain a receipt, go to the "My Tickets" screen and then click on "Show Receipt Data" under "Your Order."
The registered personal information will be used only for operational and contact purposes for the event(s).
Please note that speakers are subject to change without prior notice.
All prices include tax.
Notes on Personal Information
Personal information acquired and retained by Mori Art Museum on the website will be used and managed according to the privacy policy of our company.