Artworks of Leandro Erlich #1
Port of Reflections

&

The Cloud

2018.2.13 [Tue]

In this artwork, boats seem to be floating on water. In fact, the mixed-media installation used a computer to calculate how a boat rocks on water, and then precisely recreates the appearance of this. We see the artwork like we do because of our belief that a boat is something that "floats on water." In this way, the artwork helps us realize how far we view things through the lens of our fixed preconceptions.
The "reflection" of the title also suggests deliberation or careful consideration, and this is perhaps what the work encourages us to do in regards to the relationship between image and actuality.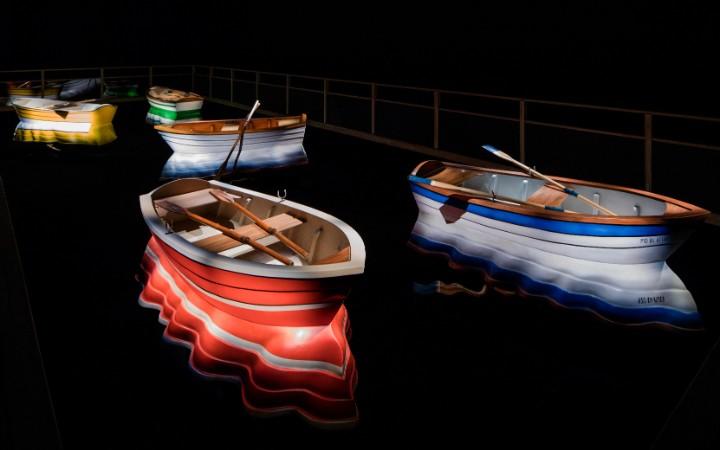 This artwork features clouds created with white ceramic ink to form the geographical shapes of France, Germany, Britain, and Japan.
One of mankind's tendencies is to attempt to add order and form to where there is none, such as how the randomly arranged stars were organized into constellations. In the same way, we have from ancient times imagined various shapes in the constantly shifting forms of clouds. In this artwork we can see that what we think of as nation states are merely the results of mankind's arbitrarily division of geographical features and terrain, which, if viewed in terms of tens of thousands of years, also changes shape in the same way as clouds.