Equipped with highly original ideas and impressive energy, artist collective Chim↑Pom from Smappa!Group has undertaken numerous projects intervening in society in ways that constantly confound our expectations. With themes ranging from cities and consumerism to gluttony and poverty, Japanese society, the atomic bomb, earthquakes, images of stardom, the mass media, borders, and the nature of publicness, their works serve as powerful statements on a plethora of phenomena and challenges in modern society, delivered mostly with a healthy dose of humor or irony.
With seemingly uncanny foresight, Chim↑Pom from Smappa!Group has also addressed in a number of their previous works the social issues of infection and discrimination against people with contagious diseases, and of bias, contamination and borders, all thrown into sharp relief by the COVID-19 pandemic. Now more than ever perhaps is the time to observe their thought-provoking knack for raising issues pertinent to the zeitgeist.
This will be the first-ever retrospective of Chim↑Pom from Smappa!Group, bringing together major works from the start of their seventeen-year career to more recent years, plus new works produced for this exhibition, which would total approximately 150 works. Artworks will be arranged by theme - e.g., cities and publicness, Hiroshima, the Great East Japan Earthquake - highlighting matters consistently addressed by the artists, while examining the collective's oeuvre in its entirety. Dynamic exhibition design, rich in creative ingenuity, will also assist in shedding new light on the ever-surprising world of Chim↑Pom from Smappa!Group.
The title Happy Spring signals Chim↑Pom from Smappa!Group's hope for a brighter spring even amid this seemingly neverending pandemic, and that we retain our powers of imagination even if that long-awaited season arrives in the depths of adversity. In these unpredictable times, the powerful, convention-busting works of this enduring, but equally-unpredictable group of artists are certain to excite the imagination, and serve as a guide as we join in contemplating a better future.
Click here to see installation view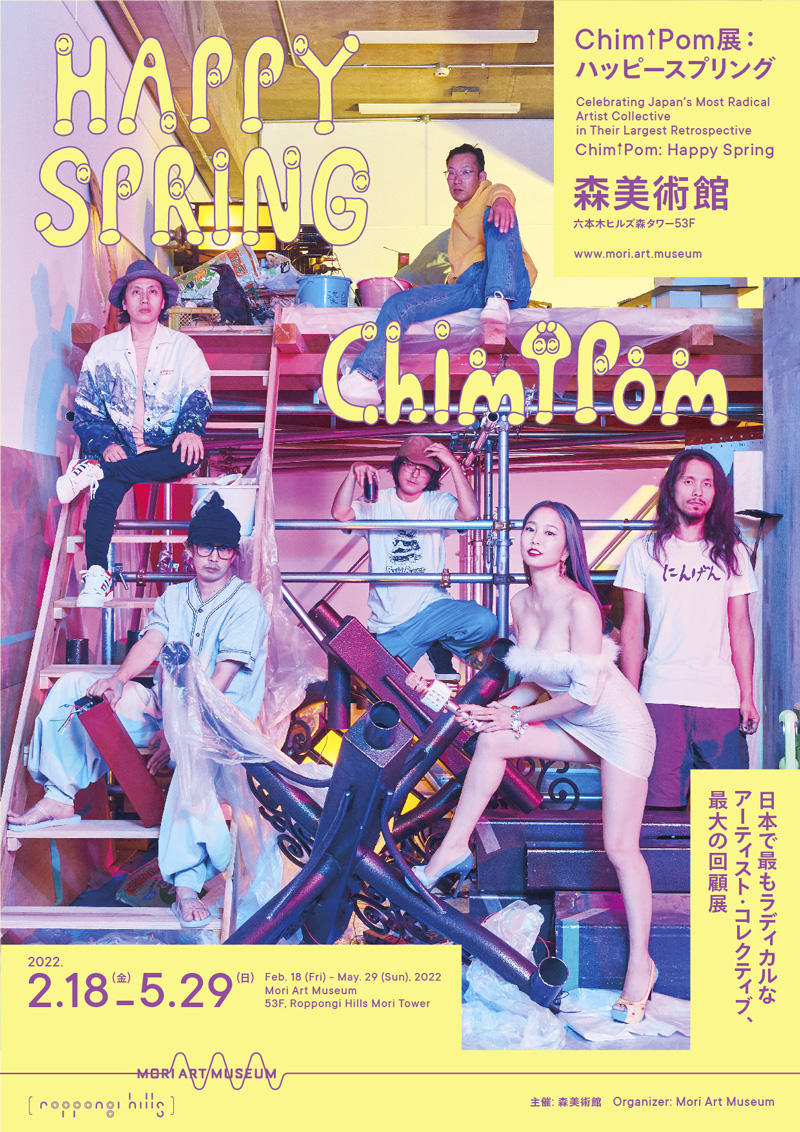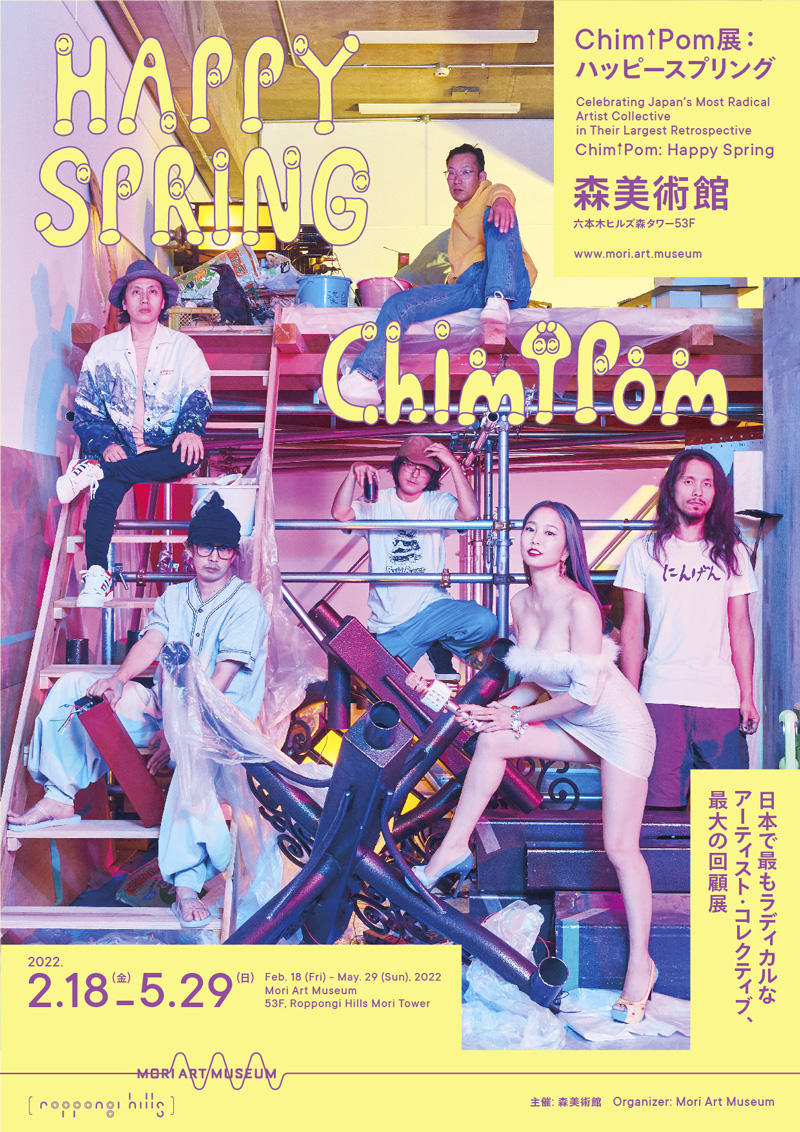 About the Exhibition
Chim↑Pom: Happy Spring
Organizer
Mori Art Museum
Grants from
Nippon Donation Foundation
The Obayashi Foundation
Corporate Sponsors
YOSHINO GYPSUM CO.,LTD.
regist ART / Jitsugyo no Nihon Sha, Ltd.
adidas Japan K.K.
GO inc.
PARCO CO., LTD.
The Royal Park Canvas - Ginza 8
UPDATER, Inc. (Minna-Denryoku)
Production Support
MAEDA ROAD CONSTRUCTION CO., LTD.
Patron
Nakao Koji
Curated by
Kondo Kenichi (Senior Curator, Mori Art Museum)
---
Notice Regarding Photography and Filming in the Galleries
At the exhibition Chim↑Pom, you may take you may photograph/film some of the artworks/areas. Please read this notice carefully.
Photography/filming of works with


pictograms adhered is strictly prohibited. Details: here
Photography/filming of works with


pictograms adhered is strictly prohibited. Details: here
When taking photographs/filming (if allowed):
Do NOT touch the works of art.
Do NOT interfere with other visitors' enjoyment of the museum.
Do NOT use flash lighting.
Do NOT use tripods and selfie sticks.
Filming, where allowed, must be limited to one (1) minute maximum.
When using photographs/videos taken of the exhibitions:
Photographs/videos may be used for non-commercial purposes, only. Photographs/videos may NOT be used for commercial purposes.
Photographs/videos may NOT be altered in any ways.
The conditions above are set forth under the Creative Commons License. When uploading photographs/videos for blogs or any other photosharing services, please make sure to display the below marks and phrases with the photographs/videos.
Example:
Artist's name and work title: Chim↑Pom from Smappa!Group BLACK OF DEATH
This photograph/video is licensed under "Creative Commons Attribution-Noncommercial-NoDerivative Works 4.0 International."
* For details about the Creative Commons License and displaying of photographic materials under the License, refer to the Creative Commons Japan website: https://creativecommons.jp
* Beware that they may infringe on that person's right of portrait if photographs/videos that include other museum visitors are made public.