Artist Alfredo Jaar's works continually bear witness to myriad social issues. At "All You Need Is LOVE," currently on show at Mori Art Museum, Jaar presents a new installation composed of photographs taken in 2012 when he visited towns ravaged by the Great East Japan Earthquake. This round of "LOVE" in a Minute looks, however, at another work by Jaar also on view at the exhibition, Embrace.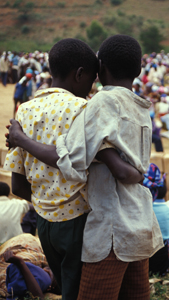 Alfredo Jaar
Embrace
1995
Video
1 min.
Courtesy: Kenji Taki Gallery, Tokyo
After studying architecture and filmmaking, Chilean-born Alfredo Jaar moved his base to New York in 1982, where he has ever since been creating works that deal with social issues, taking a perspective that lies somewhere between that of art and journalism.
Embrace (1995), one of the works in the exhibition, is from Jaar's representative Rwanda Project (1994-2010). Jaar went to Rwanda in the aftermath of the massive genocide of Tutsi people by the Hutu ethnic group in 1994, and viewed the situation from a different standpoint than that of a journalist.
In these photographs, taken soon after the slaughter came to an end, three boys are embracing at a refugee camp. It is unclear what they are looking at, but viewed from behind, the human act of touching and comforting each other even under extreme circumstances conveys the essence of love.
 
■Relevant information
・Roppongi Hills and Mori Art Museum 10th Anniversary Exhibition
"All You Need Is LOVE: From Chagall to Kusama and Hatsune Miku"
Friday, April 26 - Sunday, September 1, 2013
・"LOVE" in a Minute - Artist & Work
(1) Jeff Koons Sacred Heart
(2) Gohar Dashti Today's Life and War series
(3) Nan GoldinThe Ballad of Sexual Dependency series
(4) John Everett Millais Speak! Speak!
(5) Frida Kahlo My Grandparents, My Parents, and I (FamilyTree)
(6) Zhang Xiaogang Bloodline: The Big Family
(7) Kusama Yayoi Love Is Calling
(8) Shilpa Gupta I live under your sky too
(9) Hatsune Miku Hatsune Miku: Connecting Love
(10) Alfredo Jaar Embrace
(11) Robert Indiana Love & Gimhongsok Love
(12) Sophie Calle Take Care of Yourself
(13) Lovers painted by Chagall, Magritte and Picabia