The work of Mumbai-born and based artist Shilpa Gupta ranges vastly in medium and method. Of what kind of love does her message, "I live under your sky too," rendered in LED light, speak as in alternates between 3 languages?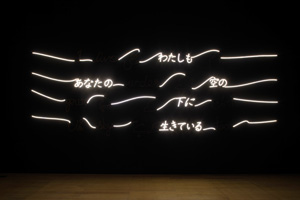 Shilpa Gupta
I live under your sky too
2011
LED
254×989.5cm
Photo: Kioku Keizo
Shilpa Gupta's work attempts to visualize the problems that beset today's world, including ethnic, class, gender, and economic disparities; religious disputes, and environmental issues. Her methods are wide-ranging, including interactive installation, photography, and video.
I live under your sky too (2011), included in the exhibition, displays those very words in the form of a "neon" sign, in English, Japanese, and Urdu, alternating between the languages. Urdu is the national language of Pakistan, and is also an official language of the Kashmir region of northern India. India and Pakistan are still in dispute over Kashmir, yet this work reminds us that no matter who we are or what situation we live in, we all live under the same sky. The initial impression of the message is perhaps romantic, but it insinuates itself deeply into our minds as it quietly blinks away.
 
■Relevant information
・Roppongi Hills and Mori Art Museum 10th Anniversary Exhibition
"All You Need Is LOVE: From Chagall to Kusama and Hatsune Miku"
Friday, April 26 - Sunday, September 1, 2013
・"LOVE" in a Minute - Artist & Work
(1) Jeff Koons Sacred Heart
(2) Gohar Dashti Today's Life and War series
(3) Nan GoldinThe Ballad of Sexual Dependency series
(4) John Everett Millais Speak! Speak!
(5) Frida Kahlo My Grandparents, My Parents, and I (FamilyTree)
(6) Zhang Xiaogang Bloodline: The Big Family
(7) Kusama Yayoi Love Is Calling
(8) Shilpa Gupta I live under your sky too
(9) Hatsune Miku Hatsune Miku: Connecting Love
(10) Alfredo Jaar Embrace
(11) Robert Indiana Love & Gimhongsok Love
(12) Sophie Calle Take Care of Yourself
(13) Lovers painted by Chagall, Magritte and Picabia
(14) Tracey Emin I promise to love you
(15) David Hockney My Parents
(16) Damien Hirst Untitled