The 5th part of our "LOVE" in a Minute series presents the artist pride of Mexico, Frida Kahlo. One of some 200 works on the theme of love from around the world selected for the Roppongi Hills and Mori Art Museum 10th anniversary exhibition, "All You Need Is LOVE," My Grandparents, My Parents, and I (Family Tree) is one of Kahlo's masterpieces, and is on public view at Mori Art Museum for the very first time in Japan.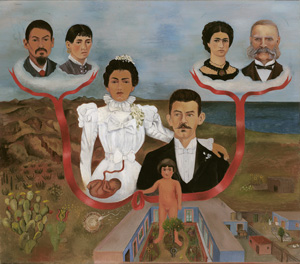 Frida Kahlo
My Grandparents, My Parents, and I (Family Tree)
1936
Oil and tempera on zinc
30.7×34.5cm
Collection: The Museum of Modern Art,New York
Gift of Allan Roos, M.D., and B. Mathieu Roos. Acc. n.:277.1987.a-c.
© 2012. Digital image, The Museum of Modern Art, New York/Scala, Florence
The 200 or so works that Frida Kahlo produced in her lifetime, mostly self portraits, reflect her victory over the hardships she encountered in her stormy life of extreme ups and downs. Her dream-like style even won high praise from the surrealist Andre Breton.
In the work included in the exhibition, My Grandparents, My Parents, and I (Family Tree) (1936), the figures of Kahlo's grandparents float like clouds on the right and left. Hovering on the side of her mother are her Mexican-born maternal grandparents, situated over a land in which cactuses grow. On the side of her German-born Jewish father, Kahlo's paternal grandparents float over the sea, symbolizing her father's foreign origins. The artist herself is portrayed as a fetus in her mother's womb and as a child in the center of the painting.
Kahlo championed and admired Mexican culture, wearing the traditional indigenous clothing of Mexico. However, this work also gives witness to her feelings for Europe, the land of her father. Acutely aware of the rise of the Nazis in Europe at the time, Kahlo portrays her mixed heritage using a family tree motif, as if in protest to Nazi policies.
 
■Relevant information
・Roppongi Hills and Mori Art Museum 10th Anniversary Exhibition
"All You Need Is LOVE: From Chagall to Kusama and Hatsune Miku"
Friday, April 26 - Sunday, September 1, 2013
・"LOVE" in a Minute - Artist & Work
(1) Jeff Koons Sacred Heart
(2) Gohar Dashti Today's Life and War series
(3) Nan GoldinThe Ballad of Sexual Dependency series
(4) John Everett Millais Speak! Speak!
(5) Frida Kahlo My Grandparents, My Parents, and I (Family Tree)
(6) Zhang Xiaogang Bloodline: The Big Family
(7) Kusama Yayoi Love Is Calling
(8) Shilpa Gupta I live under your sky too
(9) Hatsune Miku Hatsune Miku: Connecting Love
(10) Alfredo Jaar Embrace
(11) Robert Indiana Love & Gimhongsok Love
(12) Sophie Calle Take Care of Yourself
(13) Lovers painted by Chagall, Magritte and Picabia
(14) Tracey Emin I promise to love you
(15) David Hockney My Parents
(16) Damien Hirst Untitled