The 7th installment of "LOVE" in a Minute features an artist known for her paintings, sculptures, films and installations that abound with repeating, or rather propagating, polka dots and nets: Kusama Yayoi - one of the most famous Japanese artists in the world today. Her large-scale new work, Love Is Calling, appears in "Section 5: Love Beyond" at "All you need is LOVE."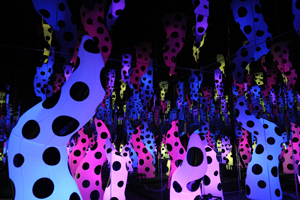 Kusama Yayoi
Love Is Calling
2013
Mixed media
Installation
© Kusama Yayoi
Kusama began creating in the 1930s. She moved to New York, in 1957 where in addition to paintings, installations, and fashion designs, she also presented numerous "happenings." To Kusama, everything in the universe - including the earth, moon, sun, and humanity - is made up of countless polka dots, and to repeat and propagate these polka dots is a means of losing oneself and returning to the origin of the universe.
The work shown in the exhibition, Love Is Calling (2013), is a new installation created specifically for the show, in which a great number of protrusions covered with polka dots that gradually change colors extend from the floor and ceiling. With the sound of Kusama's own voice emitted from different places reading out a poem about love called Residing in a Castle of Shed Tears (2010), the viewer finds herself in an other-worldly mirrored space like the inside of a kaleidoscope. For Kusama, love is an eternal theme, forever emanating outwards from herself to all people, living things, and the universe.
 
■Relevant information
・Roppongi Hills and Mori Art Museum 10th Anniversary Exhibition
"All You Need Is LOVE: From Chagall to Kusama and Hatsune Miku"
Friday, April 26 - Sunday, September 1, 2013
・"LOVE" in a Minute - Artist & Work
(1) Jeff Koons Sacred Heart
(2) Gohar Dashti Today's Life and War series
(3) Nan GoldinThe Ballad of Sexual Dependency series
(4) John Everett Millais Speak! Speak!
(5) Frida Kahlo My Grandparents, My Parents, and I (FamilyTree)
(6) Zhang Xiaogang Bloodline: The Big Family
(7) Kusama Yayoi Love Is Calling
(8) Shilpa Gupta I live under your sky too
(9) Hatsune Miku Hatsune Miku: Connecting Love
(10) Alfredo Jaar Embrace
(11) Robert Indiana Love & Gimhongsok Love
(12) Sophie Calle Take Care of Yourself
(13) Lovers painted by Chagall, Magritte and Picabia
(14) Tracey Emin I promise to love you
(15) David Hockney My Parents
(16) Damien Hirst Untitled