Vocaloid pop-star Hatsune Miku has charmed the world with her alluring high-pitched voice and "16-year-old" figure dressed in futuristic garb. Appearing in Section 5: Love Beyond of "All you need is LOVE," Hatsune Miku: Connecting Love makes visible the phenomenon of mass spreading of love.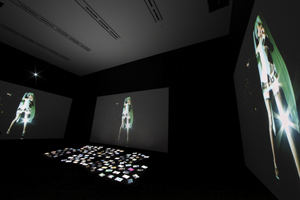 Installation view of Hatsune Miku: Connecting Love
2013
Installation (3-channel video, tablet computer)
Production: Crypton Future Media, INC. and Mori Art Museum
Production support: Tara Knight, SEGA / MAGES, MIKUNOPOLIS. 2011, PIAPRO Users
Equipment support: Sony Marketing (Japan) Inc.
Grant from: ASAHI GROUP ARTS FOUNDATION
Photo: Kioku Keizo
World-famous virtual pop-star Hatsune Miku is a vocaloid (vocal android) developed by Crypton Future Media and launched in the summer of 2007 as a musical voice synthesis application. The launch triggered a flood of songs composed by a wide variety of musicians for the Hatsune Miku voice, and illustrations and videos produced by illustrators and video artists using the Hatsune Miku motif. Today, she is a global phenomenon, predominantly on the Internet, accounting for over 200,000 original musical compositions and featuring in millions of illustrations and graphics.
Hatsune Miku has brought creators and fans together, and they have become attached to her on a massive scale. The form taken by this relationship distinguishes it from the disconnected, one-sided love exhibited by fans for physically-existing pop stars. Put another way, Hatsune Miku has transcended the scope of software, attracting the interest and love of countless people and becoming a new pop sensation that continues to evolve and grow with each additional creative step.
The work included in the exhibition, Hatsune Miku: Connecting Love, is an attempt to visualize the countless Hatsune Miku images such as those seen in MIKUMENTARY(*1) and PIAPRO(*2), the creators' love for Hatsune Miku, and the new possibilities for love that continue to expand in the form of a network intermediated by Hatsune Miku.
*1 MIKUMENTARY is a documentary project by director Tara Knight, assistant professor at the University of California, San Diego, consisting of a series of short films about Hatsune Miku that are scheduled to be made public online on an ongoing basis at http://mikumentary.com
*2 Crypton Future Media established the PIAPRO website at http://piapro.jp in December 2007 to provide a collaborative platform where creators can upload their own content.
 
■Relevant information
・Roppongi Hills and Mori Art Museum 10th Anniversary Exhibition
"All You Need Is LOVE: From Chagall to Kusama and Hatsune Miku"
Friday, April 26 - Sunday, September 1, 2013
・"LOVE" in a Minute - Artist & Work
(1) Jeff Koons Sacred Heart
(2) Gohar Dashti Today's Life and War series
(3) Nan GoldinThe Ballad of Sexual Dependency series
(4) John Everett Millais Speak! Speak!
(5) Frida Kahlo My Grandparents, My Parents, and I (FamilyTree)
(6) Zhang Xiaogang Bloodline: The Big Family
(7) Kusama Yayoi Love Is Calling
(8) Shilpa Gupta I live under your sky too
(9) Hatsune Miku Hatsune Miku: Connecting Love
(10) Alfredo Jaar Embrace
(11) Robert Indiana Love & Gimhongsok Love
(12) Sophie Calle Take Care of Yourself
(13) Lovers painted by Chagall, Magritte and Picabia
(14) Tracey Emin I promise to love you
(15) David Hockney My Parents
(16) Damien Hirst Untitled