The Roppongi Hills and Mori Art Museum 10th Anniversary Exhibition "All You Need Is LOVE: From Chagall to Kusama and Hatsune Miku" gathers together under a single roof around 200 prominent works of art on the theme of love, from some of the best-known paintings in art history to ambitious new works. In the 4th part of "LOVE" in a Minute, we focus on John Everett Millais, the 19th-century English painter famed for his portrayal of the heroine from Hamlet, Ophelia.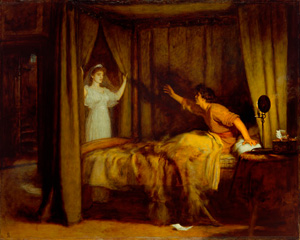 John Everett Millais
Speak! Speak!
1895
Oil on canvas
167.6×210.8cm
Collection: Tate. Presented by the Trustees of the Chantrey Bequest 1895
© Tate, London 2013
British artist John Everett Millais (1829-1896), who founded the Pre-Raphaelite Brotherhood together with Dante Gabriel Rossetti and William Holman Hunt, won critical acclaim with his painting portraying the death of the heroine from Hamlet,Ophelia (1851-1852). Millais produced paintings of historical and religious themes, and also genre paintings and portraits that catered to popular tastes, building his wealth and reputation, and cementing his status.
Speak! Speak!, included in this exhibition, was painted in 1895, the year before Millais' death. It is said to depict a scene from an ancient Roman story, where a young man reads letters from a lost love each night. One night, the lady of his love appears at the foot of his bed wearing a wedding dress. It is ambiguous whether this mysterious vision is a dream or reality where the painting projects a disconcerting aura, close to that of madness.
 
■Relevant information
・Roppongi Hills and Mori Art Museum 10th Anniversary Exhibition
"All You Need Is LOVE: From Chagall to Kusama and Hatsune Miku"
Friday, April 26 - Sunday, September 1, 2013
・"LOVE" in a Minute - Artist & Work
(1) Jeff Koons Sacred Heart
(2) Gohar Dashti Today's Life and War series
(3) Nan GoldinThe Ballad of Sexual Dependency series
(4) John Everett Millais Speak! Speak!
(5) Frida Kahlo My Grandparents, My Parents, and I (FamilyTree)
(6) Zhang Xiaogang Bloodline: The Big Family
(7) Kusama Yayoi Love Is Calling
(8) Shilpa Gupta I live under your sky too
(9) Hatsune Miku Hatsune Miku: Connecting Love
(10) Alfredo Jaar Embrace
(11) Robert Indiana Love & Gimhongsok Love
(12) Sophie Calle Take Care of Yourself
(13) Lovers painted by Chagall, Magritte and Picabia
(14) Tracey Emin I promise to love you
(15) David Hockney My Parents
(16) Damien Hirst Untitled