Artist Zhang Xiaogang continues to play a pivotal role in Chinese contemporary painting expression. 3 works from the "Bloodline" series, for which he is best known, are currently on view in the Roppongi Hills and Mori Art Museum 10th Anniversary Exhibition "All You Need Is LOVE." In the 6th round of "LOVE" in a Minute, we spotlight one of those paintings, Bloodline: The Big Family.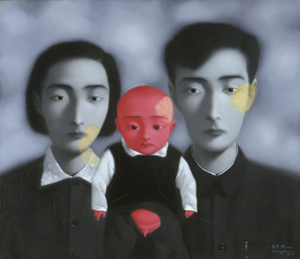 Zhang Xiaogang
Bloodline: The Big Family
1997
Oil on canvas
85.3×100cm
Collection: Okinawa Prefectural Museum & Art Museum
Zhang Xiaogang was one of the driving forces behind the Chinese Avant-Garde movement which originally gained strength in the 1980s. Like many Chinese artists of his generation, Zhang was caught up in Mao's Cultural Revolution (1966-1976).
A chance discovery of old photos on a visit to his family home provided him a powerful inspiration that led to his representative "Bloodline" series. As in Bloodline:The Big Family (1997), seen here and included in the exhibition, family members stare straight ahead in the style of traditional portraits, and all the figures depicted - even children - have the same expressionless faces, exuding an air of disquiet. Red lines linking the figures convey an image of bloodlines, but also seem to represent a fate that cannot be escaped.
To Zhang, who sees his country as being like a "big family," the nostalgic family portraits overlap with his image of the dark days of the Cultural Revolution, expressing the complex intertwining of individual and group histories.
 
■Relevant information
・Roppongi Hills and Mori Art Museum 10th Anniversary Exhibition
"All You Need Is LOVE: From Chagall to Kusama and Hatsune Miku"
Friday, April 26 - Sunday, September 1, 2013
・"LOVE" in a Minute - Artist & Work
(1) Jeff Koons Sacred Heart
(2) Gohar Dashti Today's Life and War series
(3) Nan GoldinThe Ballad of Sexual Dependency series
(4) John Everett Millais Speak! Speak!
(5) Frida Kahlo My Grandparents, My Parents, and I (FamilyTree)
(6) Zhang Xiaogang Bloodline: The Big Family
(7) Kusama Yayoi Love Is Calling
(8) Shilpa Gupta I live under your sky too
(9) Hatsune Miku Hatsune Miku: Connecting Love
(10) Alfredo Jaar Embrace
(11) Robert Indiana Love & Gimhongsok Love
(12) Sophie Calle Take Care of Yourself
(13) Lovers painted by Chagall, Magritte and Picabia
(14) Tracey Emin I promise to love you
(15) David Hockney My Parents
(16) Damien Hirst Untitled