The Mori Art Museum is currently staging "All You Need Is LOVE: From Chagall to Kusama and Hatsune Miku" to celebrate 10 years of both the MAM and Roppongi Hills. Love in its myriad permutations has fascinated and inspired artists the world over since time immemorial. This series takes a closer look at some of the works and artists appearing in this 10th-anniversary exhibition. In this second part, we focus on Iranian artist Gohar Dashti. "All You Need Is LOVE" exhibition includes 4 photographs from her series Today's Life and War.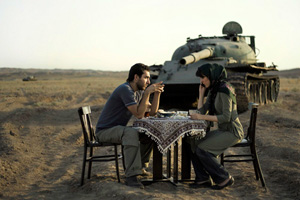 Gohar Dashti
Today's Life and War
2008
Inkjet print
70×105cm
Born in the year the Iran-Iraq war began, 1980, Gohar Dashti produces photographic and video works that deal mainly with issues of daily life and society in modern-day Iran.
The exhibition includes 4 photographs from Dashti's Today's Life and War series (2008), made based on the artist's own experience of war.
Portraying a young married couple, there are tanks, barbed wire, sandbags, and other symbols of war forming part of the background, alerting the viewer that these young people are in a war zone. Although their faces fail to show any prominent sign of emotion, one can glean something about the bond between this imperturbable couple and their strong will to survive from the dispassionate way they go about their daily lives, from the direct stares they throw at the viewer, and from their profiles as they watch TV. One can sense in this series of works, the artist's objective view of her homeland.
By directing her focus on today's modern era and the lifestyles of the young postwar generation, Dashti gives artistic expression to new forms taken by love and marriage relationships in modern-day Iran.
 
■Relevant information
・Roppongi Hills and Mori Art Museum 10th Anniversary Exhibition
"All You Need Is LOVE: From Chagall to Kusama and Hatsune Miku"
Friday, April 26 - Sunday, September 1, 2013
・"LOVE" in a Minute - Artist & Work
(1) Jeff Koons Sacred Heart
(2) Gohar Dashti Today's Life and War series
(3) Nan GoldinThe Ballad of Sexual Dependency series
(4) John Everett Millais Speak! Speak!
(5) Frida Kahlo My Grandparents, My Parents, and I (FamilyTree)
(6) Zhang Xiaogang Bloodline: The Big Family
(7) Kusama Yayoi Love Is Calling
(8) Shilpa Gupta I live under your sky too
(9) Hatsune Miku Hatsune Miku: Connecting Love
(10) Alfredo Jaar Embrace
(11) Robert Indiana Love & Gimhongsok Love
(12) Sophie Calle Take Care of Yourself
(13) Lovers painted by Chagall, Magritte and Picabia
(14) Tracey Emin I promise to love you
(15) David Hockney My Parents
(16) Damien Hirst Untitled