Since Friday, April 26, to mark the 10th anniversary of the Mori Art Museum and Roppongi Hills, the Museum has been running "All You Need Is LOVE: From Chagall to Kusama and Hatsune Miku," an exhibition of some 200 works on the theme of love, ranging from some of history's most famous artworks to ambitious new works.
This 16-part series will showcase a selection of these works, and the artists who created them, starting with Jeff Koons' Sacred Heart, featured prominently on the show's official website, posters and other promotional material.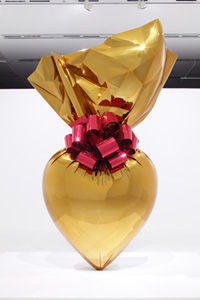 Jeff Koons
Sacred Heart
1994-2007
High chromium stainless steel with transparent color coating
364×213×122cm
Collection: PinchukArtCentre, Kyiv
©Jeff Koons
Photo: Kioku Keizo
Influenced by masters such as Marcel Duchamp and Andy Warhol, and seen as the standard-bearer of Simulationism, Jeff Koons (born 1955, U.S.) achieved success through his method of appropriating everyday objects and turning them into art. Today, his works fetch some of the highest prices of any living artist. Koons' works have always generated publicity and controversy, including his giant-sized sculptures of balloon toys; his rendering of Michael Jackson with pet chimpanzee Bubbles, in porcelain; his 13-meter-high topiary dog; and the "Made in Heaven" series of collaborative works made with his former wife, Cicciolina.
The work shown in the exhibition, Sacred Heart (1994-2007), belongs to the "Celebration" series, in which Koons paints or sculpts inexpensive, common products associated with special days and celebrations, such as holidays and birthdays. Taking its inspiration from a heart-shaped Valentine's Day chocolate, Sacred Heart aims for visual impact on a gigantic scale, rendering a chocolate heart wrapped in gold-colored cellophane in two tons of highly polished stainless steel.
 
■Relevant information
・Roppongi Hills and Mori Art Museum 10th Anniversary Exhibition
"All You Need Is LOVE: From Chagall to Kusama and Hatsune Miku"
Friday, April 26 - Sunday, September 1, 2013
・"LOVE" in a Minute - Artist & Work
(1) Jeff Koons Sacred Heart
(2) Gohar Dashti Today's Life and War series
(3) Nan GoldinThe Ballad of Sexual Dependency series
(4) John Everett Millais Speak! Speak!
(5) Frida Kahlo My Grandparents, My Parents, and I (FamilyTree)
(6) Zhang Xiaogang Bloodline: The Big Family
(7) Kusama Yayoi Love Is Calling
(8) Shilpa Gupta I live under your sky too
(9) Hatsune Miku Hatsune Miku: Connecting Love
(10) Alfredo Jaar Embrace
(11) Robert Indiana Love & Gimhongsok Love
(12) Sophie Calle Take Care of Yourself
(13) Lovers painted by Chagall, Magritte and Picabia
(14) Tracey Emin I promise to love you
(15) David Hockney My Parents
(16) Damien Hirst Untitled