---
Download the flyer of Shiota Chiharu: The Soul Trembles (PDF/1.86MB): here
---
Exhibition Catalogue
Essays by:
Kataoka Mami (Deputy Director and Chief Curator, Mori Art Museum)
Andrea Jahn (Director, Communal Gallery Saarbruecken)
Daniel Karasek (General Artistic Manager, Theater Kiel)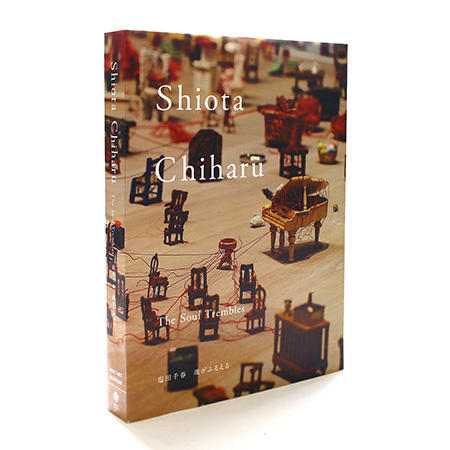 Size: A4 variation (28.2 x 21 cm)
Number of Pages: TBD
Languages: Japanese-English bilingual
Price: TBD
Date of Issue: Early August 2019 (TBD)
Edited by: Bijutsu Shuppan-Sha Co., Ltd. and Mori Art Museum, Tokyo
Published by: Bijutsu Shuppan-Sha Co., Ltd.
* The cover photograph may be subject to change.
---
Shiota Chiharu's New Installation Has Also Been on View at GINZA SIX
Six Boats, a new installation by Shiota Chiharu, has been on view in the middle of GINZA SIX's open ceiling space since the end of this past February.
Presented is a newly-commissioned work showing how six boats sail and go forward on the "sea of memories" of Ginza, area that has overcome many difficulties post-war and revived over time. As these boats, hung by white threads stretching over the entire space, are all positioned at different heights and orientations, visitors looking at those boats visible from different floors and angles can imagine a trip to a completely different dimension.
Period: Through Sunday, October 27, 2019 (TBD)
Location: Central Open Ceiling, GINZA SIX [6-10-1 Ginza, Chuo-ku, Tokyo 104-0061]
Details: here