With this year marking ASEAN's 50th anniversary, the Southeast Asian region is enjoying remarkable prosperity - not just in terms of economic growth but in the contemporary art scene as well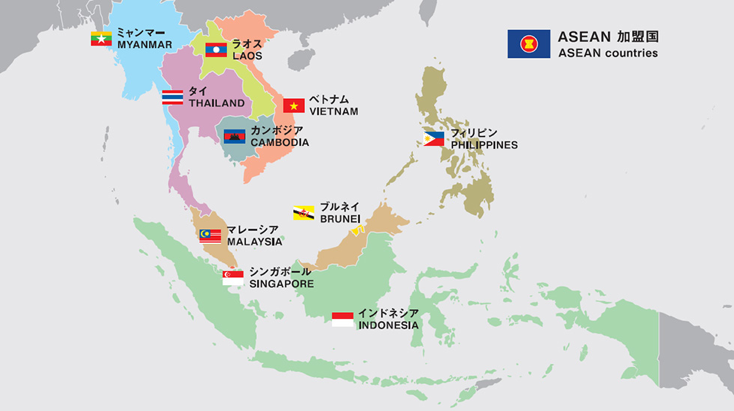 ASEAN (Association of Southeast Asian Nations) - currently made up of the ten Southeast Asian member countries of Brunei, Cambodia, Indonesia, Laos, Malaysia, Myanmar, the Philippines, Singapore, Thailand and Vietnam - was founded in 1967 with the signing of the Bangkok Declaration. Becoming an economic community in 2015, ASEAN has demonstrated high economic growth over the last ten years, but it has also given rise to a dynamic contemporary art scene that has earned widespread international attention. This exhibition is the perfect introduction to Southeast Asian contemporary art.
---
An array of prominent Southeast Asian artists
The incredible lineup of 86 artists groups spans 3-4 generations includes Montien Boonma (Thailand) and Roberto Chabet (the Philippines) who both had an enormous influence on the next generation; Asia's foremost star artists who began attracting attention in the 1990s such as Rirkrit Tiravanija (Thailand), Wong Hoy Cheong (Malaysia), Heri Dono (Indonesia) and Tiffany Chung (Vietnam); and, representing the younger generation born in the 1970s and 80s, Ho Rui An (Singapore) and Korakrit Arunanondchai (Thailand) that are already attracting offers from around the world.
---
A number of works that can be photographed!
The exhibition includes many large-scale installations, interactive artworks and other works that can be photographed - possibly perfect for posting on SNS platforms.
NACT

 Exhibited at The National Art Center, Tokyo

MAM

 Exhibited at Mori Art Museum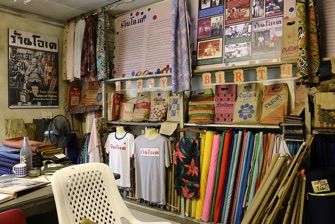 NACT
The "OK Store", a fabric shop run by the artist's father at Varorot Market in Chiang Mai, replicated in the gallery space. Inside are paintings of some 50 people including family members, relatives and other shopkeepers from the market.
Navin Rawanchaikul (b.1971) Thailand
A Tale of Two Homes
2015
Installation
387 x 794 x 267 cm
Courtesy: Navin Production, Chiang Mai, Thailand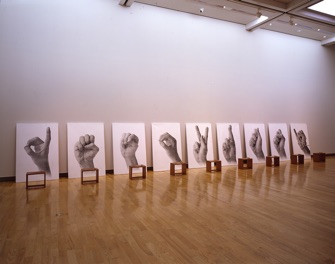 NACT
A row of nine panels, each featuring a gesturing hand, spell out the Indonesian word D-E-M-O-K-R-A-S-I in sign language. In front of each canvas is a rubber stamp of the corresponding letter and piece of paper on which visitors are invited to stamp the word.
FX Harsono (b.1949) Indonesia
Voice Without a Voice / Sign
1993-1994
Silkscreen on canvas, wood stool, and stamp
Canvas: 143.5 x 95.5 cm (each, set of 9)
Wood stool: 23 x 38 x 32 cm (each, set of 9)
Collection: Fukuoka Asian Art Museum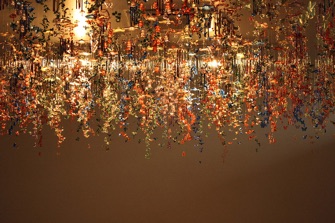 MAM
More than 1,000 wind chimes jangle in the gallery space, as they sway in the wind. These colorful plastic decorations speak of both the festive nature of Southeast Asia and a global economy supported by mass production, as they deliver a palpable vibration from which we sense signs of change.
Felix Bacolor (b.1967) The Philippines
Stormy Weather
2009
Installation
Dimensions variable
MAM
A large-scale collage of overwhelming density that fixes its gaze on what is made, what is destroyed, and what is preserved in Malaysia, thereby questioning the ways of the nation-state.
Liew Kung Yu (b.1960) Malaysia
City of Towering Columns (from the series "Proposals for My Country")
2009
Photo Montage
213 x 575 cm
---
Fruit of 2+1/2 years of field research by a 14-member curatorial team
A 14-member curatorial team including local up-and-coming curators conducted research in 16 cities in the10 ASEAN member countries for two and a half years. 86 artist groups were selected based on first-hand information acquired as a result of over 400 visits to artists' studios and galleries and interviews with art insiders. Visitors will be able to get a real sense of the energy, dedication and reality experienced by the curators. The field research reports are archived at the "SEA Project" website.
---
A festival-like atmosphere spread across two leading museums in the Roppongi area!
Staged simultaneously at two museums in Roppongi, an area that has become the art mecca in Tokyo with a number of art galleries scattered in the area, this exhibition enables visitors to view art in a festival-like atmosphere. The admission for both venues is specially-priced 1,800 yen (*) (1,600 yen if purchased in advance). In addition to the Mori Art Museum being open until 22:00 every day except Tuesdays, the National Art Center, Tokyo is extending its opening hours until 21:00 on Fridays and Saturdays. Visitors can relax and enjoy the artworks without worrying about the time.
* Admission for each venue usually costs around 1,600 yen.
---
Numerous related events focusing on Southeast Asia scheduled
Coinciding with the exhibition, a number of related events will be held, including screenings of notable / muchtalked-about films from various countries of Southeast Asia and lectures reporting on the current situation in each country in an easy-to-follow and interesting manner.