Admission & Access
Open Hours
10:00-22:00 (Tuesdays: 10:00-17:00)
* Tuesdays of 9/22 open until 22:00
* Admission until 30 minutes before closing.
* Open everyday.
Admission
Adult: ¥1,800, University / Highschool student: ¥1,200, Child (4 years to Junior highschool student): ¥600, Senior (Age 65 & over): ¥1,500
* All prices include tax.
* Ticket also valid for Tokyo City View observation deck.
* Additional entrance fee to the Sky Deck is required.
Advance Ticket Sales
Adult: ¥1,500
* Price includes tax.
Advance ticket sales period: thru Monday, October 12, 2015
Advance Tickets available through: Ticket Pia [P-code: 766-859] (* In Japanese-language only)
News
---
"Dinh Q. Lê" Silver Week Campaign!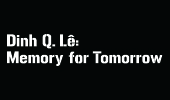 We will present the exhibition original folder to the first 30 visitors!
| | |
| --- | --- |
| Campaign Period: | Saturday, September 19, thru Wednesday, September 23, 2015 |
Venue: Near the exhibition entrance on the 53F.
* Original folder will be given to first 30 visitors per day during the campaign period.
Exhibition Flyer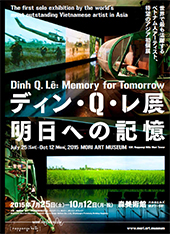 Download the flyer of "Dinh Q. Lê: Memory for Tomorrow" (PDF/2.42MB): here
List of Exhibited Works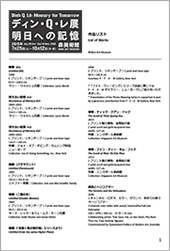 Please download the list of exhibited works of "Dinh Q. Lê: Memory for Tomorrow." (PDF/329KB)
Audio Guide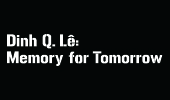 Free audio guide devices (Japanese / English) are available for the visitors to the Museum.
The guide includes interview of Dinh Q. Lê and introduces the main pieces exhibited in the exhibition.
Audio guide is available at the counter of the museum entrance. In addition, you can listen to the audio guide on the Mori Art Museum website.
Catalogue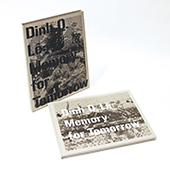 Essays by:
Araki Natsumi (Curator, Mori Art Museum)
Zoe Butt (Curator / Executive Director, Sàn Art)
Sandra Q. Firmin (Director / Chief Curator, CU Art Museum)
Moira Roth (Art historian, poet, playwright)
Size: A4 variation (21×28.2cm)
Languages: Japanese-English bilingual
Price: ¥2,808 (incl. tax)
Edited and Published by: Mori Art Museum / Heibonsha Ltd., Publishers
Inquiries: Mori Art Museum Shop
Tel: +81(0)3-6406-6118
Original Goods
Exhibition original goods are available only at the Museum Shop.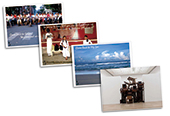 Postcards
7 variations
Come Back to Saigon, Come Back to My Lai, So Sorry (from the series Vietnam Destination for the New Millennium)
Erasure
South China Sea Pishkun
Barricade
The Infrastructure of Nationalism I
Price: ¥162 each (incl. tax)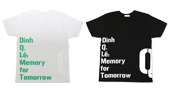 Exhibition Logo T-shirts
2 variations
Price: ¥2,700 each (incl. tax)
Exhibition Original Folder
Price: ¥324 (incl. tax)
Mori Art Museum Shop (53F, Roppongi Hills Mori Tower)
Inquiries: Mori Art Center Museum Shop
Tel: +81(0)3-6406-6118
"Dinh Q. Lê" Exhibition Limited-Edition Design Passport on sale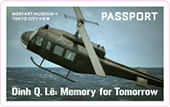 To commemorate the opening of the exhibition "Dinh Q. Lê: Memory for Tomorrow," limited edition (500 purchasers) is now on sale.
Design of this limited edition features a scene from South China Sea Pishkun (2009), a video work in theme of helicopters of the U.S. forces on the last day of Vietnam war.
Period of the sales: Saturday, July 25, 2015 -
Price: ¥6,000 (incl. tax)
Purchase at: 3F, 52F, Mori Tower
Inquiries: Tokyo City View Tel: +81-(0)3-6406-6652
Details of Annual Passport
About Erasure website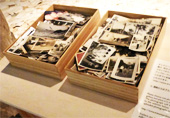 In Dinh Q. Lê's installation Erasure, the artist, who as a child fled Vietnam with his family via Thailand to the U.S., addresses his own background as a refugee. Most of the photographs covering the floor were bought by the artist at antique shops in Ho Chi Minh City. According to Lê, most were left behind by people fleeing their homeland in the middle of the Vietnam War. By archiving each of these photographs, Lê hopes the work will bring back the personal memories of the individuals who were forced to flee their homeland and seek asylum abroad that are locked inside these small photographs.
Visitors of the exhibition are suggested to choose one photograph on the floor of the gallery and place it in the box on the desk. Staff will scan and upload the photographs to the website below. The archiving work will take place in the gallery space, as part of the artwork, during opening hours of the museum.
Please view other uploaded photographs on the website.
http://www.erasurearchive.net
Learn more about Dinh Q. Lê!
Introducing artworks, event reports, installation photos et al., various contents are available!











Notice Regarding Photography in the Galleries
At the exhibition "Dinh Q. Lê: Memory for Tomorrow," you can photograph the artworks under the following conditions.
When taking permitted photographs:
| | |
| --- | --- |
| | Do NOT touch the works of art. |
| | Do NOT interfere with other visitors' enjoyment of the museum. |
| | Do NOT use flash lighting. |
| | Do NOT use tripods. |
| | Do NOT film the art works. |
When using photographs taken of the exhibition:
Photographs may be used for non-commercial purposes only. Photographs may NOT be used for commercial purposes.
Photographs may NOT be altered in any way.
The conditions above are licensed under the Creative Commons License. When uploading photographs for blogs or any other photo-sharing services, please make sure to display the below marks and phrases with the photograph.
Examples:



Artist's name and work title: Dinh Q. Lê The Farmers and the Helicopters
This photograph is licensed under "Creative Commons Attribution-Noncommercial-NoDerivative Works 2.1 Japan."
For details about the Creative Commons License and marks, please see the Creative Commons Japan website:http://creativecommons.jp
If photographs that include other museum visitors are made public, they may infringe on that person' s right of portrait.