Illustrated Guide
"Illustrated Guide" (in Japanese-language only) is now available at the venue!
The guide includes illustrations, commentary, and highlights by Miyazawa Hiroshi (Editor-in-chief, Nikkei Architecture), and features an interview of Fujimori Terunobu, advisor of the exhibition.
Please note that distribution of the Guide ends once the stock runs out.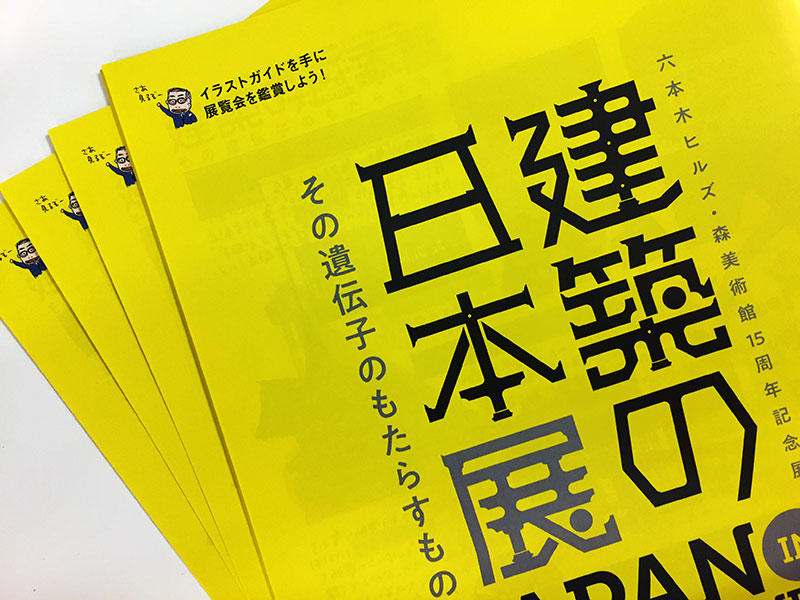 ---
Notice Regarding Photography in the Galleries
At 5 locations [ONLY] within "Japan in Architecture" exhibition, you may take photographs.
Details here
---
Special Admission Discount
Sansuke

(Triangular Scale) Discount

To mark the "Japan in Architecture" exhibition, Mori Art Museum is offering a special architecture-inspired discount. Bring your triangular scale - in Japanese sankaku sukeeru, or sansuke for short - of the type familiar to those who have worked in or studied architecture, design, engineering etc. along when you come to see "Japan in Architecture" and receive a discount on admission.
Period
April 25 [Wed] - September 17 [Mon], 2018
For
those who with a triangular scale
* Please present your triangular scale at the Mori Art Museum ticket counter, and the discount will be applied.
* Note this discount will NOT be applied to those under junior highschool student (Child).
Discount Rate
100 yen off, across the board
* It can't be combined with any other discounts.
Adult: 1,800 yen → 1,700 yen
University/highschool Student: 1,200 yen → 1,100 yen
Senior (Ages 65 and over): 1,500 yen → 1,400 yen
Repeater Discount
A discount will be offered for repeat admission to "Japan in Architecture" to make it easier to enjoy the exhibition multiple times, perfect for those keen to see the show again. Alternatively, recommend the exhibition to a friend and give them your ticket stub to use.
Period
April 25 [Wed] - September 17 [Mon], 2018
For
those who with a "Japan in Architecture" exhibition ticket stub
* Please show the ticket from your previous visit at the Mori Art Museum ticket counter, and the discount will be applied.
* Note this discount will NOT be applied to those under junior highschool student (Child).
Discount Rate
100 yen off, across the board
* It can't be combined with any other discounts.
Adult: 1,800 yen → 1,700 yen
University/highschool Student: 1,200 yen → 1,100 yen
Senior (Ages 65 and over): 1,500 yen → 1,400 yen