Online Screening of MAM Screen 005: Niwa Yoshinori
Screening Period: Thursday, October 1, 2020 – Sunday, January 3, 2021
The 6th edition of "MAM Screen" Encore Screening features four works by Niwa Yoshinori for a limited time. Setting his work in the streets and other public spaces of various countries, and locations with political connections, Niwa stages social and historical interventions by engaging in what at first glance appear to be meaningless and absurd acts and schemes, and presents on video a portion of these happenings in their entirety, including the unexpected outcomes resulting from the negotiation, its failures and reactions from others. In the MAM Screen, we presented a special edition of Niwa's four-part "Communism" series which is in the Collection of the Mori Art Museum: Tossing Socialist in the Air in Romania, Looking for Vladimir Lenin at Moscow Apartments, Proposing Holding up Karl Marx to Japanese Communist Party, and Celebrating Karl Marx's Birthday with Japanese Communist Party, newly re-edited for the showing. Through "nonsensical" actions and sense of humor that emerge from the series of attempts made by the artists (as indicted by the titles), Niwa's will have us reconsider the various value systems and significance in our society.
Commentary by the Artist and Curator
Some fifteen years ago, I was a recent college graduate and working as an irregularly-employed, manual laborer. My intention then was that this would serve as a minor act of resistance to capitalism and our subordination to it. The majority of my wages went on paying the rent for my makeshift apartment in Tokyo, and I went into arrears with the utility bills, resulting in my electricity, water, gas, and mobile phone all being cut off. Though I was clearly living in poverty, I had the misconception that this would give me spiritual release. Notwithstanding that I could do nothing about it by myself, I feared if the world would radically change after 9/11.
It was around then that, watching TV late one night, I chanced upon a documentary about the Romanian Revolution, sparking a fascination with the revolutions of Eastern Europe that followed the fall of communism in the region. It was an intense interest, almost an obsession, and which led me to believe it was my destiny to go to Romania. I was not there during the revolution, nor was I Romanian, and neither had I even properly experienced the Cold War between the capitalist and communist blocs. Now I think of it, what had so gripped me, who was born in Japan in 1982 and was still in elementary school when the Cold War ended, was a powerful obsession that attempted to make up for my own lack of such experience. Even though everything in the world is interconnected and joined together, isn't it bizarre that we are so divided by ideologies and history? What kind of role could a total outsider from the generation who experienced communism, someone from the time after the end of the Cold War, serve? How is it possible to share the past? Such discursive questions appeared in my mind one after the other, subsequently forming the motivation behind the four-part "Communism"series of works I made.
I live today in the Austrian capital of Vienna, which functioned as a buffer zone between the West and the East during the Cold War, and can now travel to the former Eastern Bloc in as little as an hour. Coincidentally enough, this city was where I came initially on the very first trip I ever took overseas. The communist nations collapsed and everything was thrown into a single global market, and then subsumed under the capitalist principle of competition. We remain unable even to imagine the end of capitalism. It is said that the COVID-19 pandemic will cause capitalism to change, though it might well spark a new struggle for economic and political hegemony, while the disparities produced by capitalism have actually increased the risk posed by the virus to the economically vulnerable. What is wealth? What is freedom? What does being democratic offer to the human society? Here in Vienna with its former communist neighbors, what should we now do to resist a world in which the standards we have for all our values are centralized?
---
Niwa Yoshinori has a sharp perspective, always penetrating simultaneously both what seems most familiar and what seems remote. This acuity lies in how its examination of wealth and freedom - the things that we unquestioningly extol and pursue on a daily basis - does not overlook where they came from or what they bring us. The actions that Niwa makes in his work initially appear humorous or even nonsensical, but they vividly reveal past social systems and how these have changed within people's lives. Today, we face the threat of the proliferation of COVID-19. What impact will it have on our future lives or on political and social structures? What is being done and what is being overlooked? Reading Niwa's statement, I once again felt a sense of the growing necessity for perspectives that observe these.
Being a somewhat long work, people may not have been able to watch it all when it was screened at the Mori Art Museum. I hope that you could take advantage of this opportunity to enjoy viewing it online at your leisure.
Kumakura Haruko (Assistant Curator, Mori Art Museum)
---
Niwa Yoshinori Tossing Socialists in the Air in Romania (single-channel version)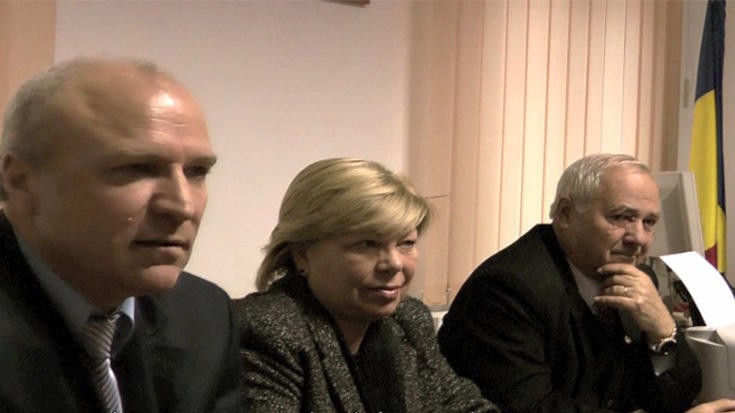 This first work in a four-part series about communism was made in Romania, where revolution brought about the collapse of a socialist republic in 1989. Niwa Yoshinori saw a documentary on television in 2005 about the fall of the Nicolae Ceaușescu regime. Shocked by the raw footage of amateur cameramen capturing the actual scenes of a revolution, he started his own research. During the process of this he exchanged emails over several years with Pavilion, an art center in Bucharest, which then led to Tossing Socialists in the Air in Romania in 2010. After the revolution brought down the dictatorship of Ceaușescu, who was executed along with his wife, Romania became a democracy and the Communist Party was made illegal for some time. From this it is easy to see the trauma left behind by the Socialist Republic, under which so many suffered. The film shows Niwa suggesting to various Romanian politicians and activists the absurd act of bringing together young people from the generation that did not experience the revolution to toss into the air people who continue to believe in communism even today.
---
Niwa Yoshinori Looking for Vladimir Lenin at Moscow Apartments (single-channel version)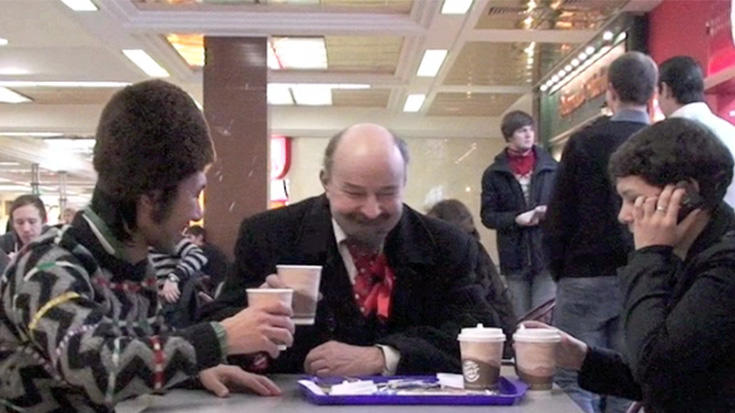 For this second work in his series about the Communist Party, Niwa Yoshinori went in search of images of Vladimir Lenin left behind in people's homes in Moscow some 20 years after the collapse of the Soviet Union. Niwa looked for portraits, photographs, propaganda posters, newspaper articles, flags and badges depicting Lenin, the first leader of the Union of Soviet Socialist Republics, in order to exhibit them at Moscow Museum of Modern Art. He gave out leaflets at train stations, asking people: "Is Lenin in your home?" The reactions of people in Moscow varied widely, from anger to nostalgia. In his search of regular households, Niwa perceives how these portraits of Lenin, which were ideological symbols of socialism, had come to change over the course of the 20 years into objects connected to personal stories or memories. In this way, he depicts how Russian society today memorializes the failed utopia of socialism.
---
Niwa Yoshinori Celebrating Karl Marx's Birthday with the Japanese Communist Party (single-channel version)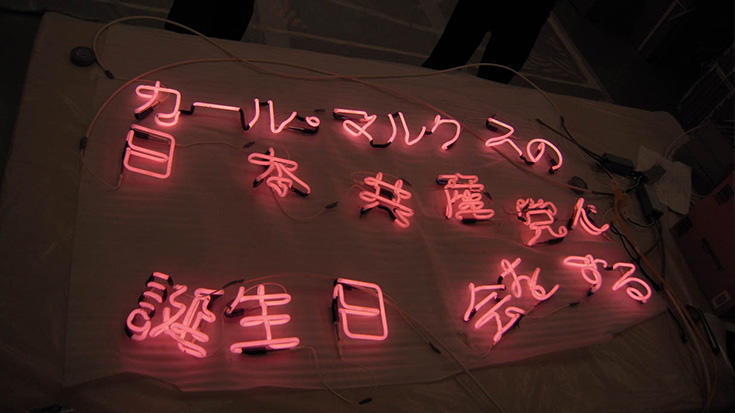 Niwa Yoshinori Proposing Holding up Karl Marx to the Japanese Communist Party (single-channel version)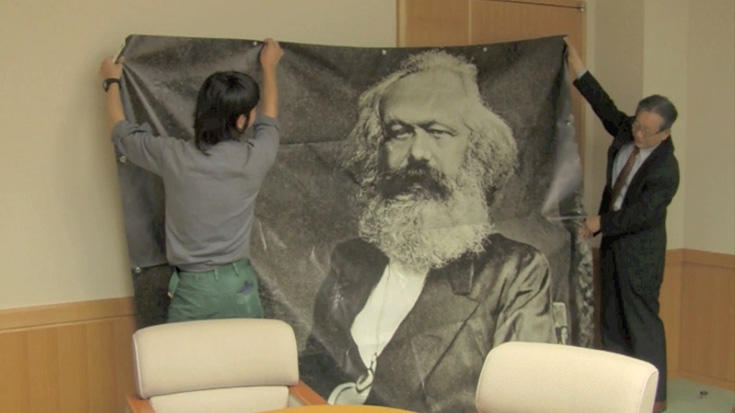 The third and fourth works in his series were made in Japan, focusing on Karl Marx, whose thinking formed the origins of communism, and the Japanese Communist Party (JCP), which has a history of over 90 years. Niwa explores how Marx's ideas have been received across the ages and in different countries, and the meaning of Marx today for the Japanese Communist Party, which is now a non-revolutionary party and has essentially abandoned the realization of a communist society. In Celebrating Karl Marx's Birthday with the Japanese Communist Party, Niwa goes to the branch office of the JCP in Aichi Prefecture and proposes organizing a "195th birthday party" for Marx, while also asking them about the so-called "scientific socialism" that the party upholds. Having heard that the photographs of Marx displayed by the JCP at the time of its founding in 1922 were no longer to be found in the party's facilities, in Proposing Holding up Karl Marx to the Japanese Communist Party Niwa goes to the Central Committee of the Japanese Communist Party and some of the JCP regional committees to suggest that they once again display the portrait of Marx in their offices. Through this seemingly absurd proposal, Niwa is attempting to re-interpret the current state of the Japanese Communist Party in the 2010s.
---
MAM Screen 005: Niwa Yoshinori Selected Video Works
Period: 2017.2.4 [Sat] - 6.11 [Sun]
Organizer: Mori Art Museum
Curated by: Kumakura Haruko (Assistant Curator, Mori Art Museum)
Exhibition webpage: https://www.mori.art.museum/english/contents/mamproject/mamscreen/005.html