Online Screening of MAM Screen 010: Mikhail Karikis
Screening Period: Saturday, August 1 - Saturday, October 31, 2020
The fourth edition of "MAM Screen" Encore Series features three works by Mikhail Karikis for a limited time. All works were previously presented at MAM Screen 010: Mikhail Karikis.
Mikhail Karikis (born 1975, Thessaloniki, Greece, lives and works in London) had shown extensively in a number of museums, including his solo exhibitions at Whitechapel Gallery (London, 2018-2019) and the Turku Art Museum (Finland, 2018). He has also participated in various international exhibitions, including the Aichi Triennale (2013), and the Biennale of Sydney (2014).
After studying music and architecture, Mikhail Karikis has crossed a wide range of genres including moving image, photography, and performance, developing these media into immersive installations. While Karikis deploys sound as the primary material for his work, the human voice plays a particularly important role within his practice. This program presents three works, Sounds from Beneath, Ain't Got No Fear and The Chalk Factory. Each of these works propose alternative models of friendship, labor, action, and even human existence itself. As viewers, we are made keenly aware of the impact exerted on individual lives by shifts in economic and industrial structures, as well as fundamental questions regarding the nature of labor, employment, and communities. Let us lend an ear to the collective voices of various communities, and expand our imagination to try and envision an increasingly informatized contemporary society, as well as a future society that accepts diversity.
Commentary by the Artist
Reflections on art and visions of the future
Mikhail Karikis
Coal defined British life and played a key role in British life. Coalmining fuelled domestic fires and industrial furnaces, and stimulated the socio-political and cultural life of the country through workers' unions and choirs. Now, the English landscape is marked by the radical urban, social and economic changes that have taken place in the country since the mid-1980s. Since the dismantling of the coalmining industry in England in the '80s, many coalmines have stood desolate and silent.
In response to the muteness of the empty pits in south-east England, in my project Sounds from Beneath I wanted to give voice to the community of former coal miners. The colliers were proud men who, after the closing of the mines, experienced communal unemployment, poverty and the dispersal of their communities. They became socially stigmatised and felt humiliated. What could be an adequate memory keeper of their community, their achievements, resistance and culture?
I started working on Sounds from Beneath in 2010. I collaborated with a coalminers' choir. Through conversations with the men, I asked them to recall and vocalise the sounds they used to hear when they worked in the mines. In the film we produced, the men sing noises that evoke the coalmine where they used to work. Mechanical clangs, whirring engines, wailing alarms, subterranean blasts, hissing and whistling vocalised by the men reanimate the empty pits. Singing became the reason for the men to come together again. Their song transforms the desolate mining site into an amphitheatre of communal remembering, forming a record of former activity and community. The miners stand with dignity and unearth a memory of loss. They compose a collective lament, both resisting social inaudibility and resonating beyond the silence of England's vanished industrial architectures.
Several years later, in 2015, I was given the opportunity to work in Japan and I turned my attention to another group of workers on the outskirts of Tokyo. I first visited the country in 2013 and in my research before traveling I read about cultural attitudes towards disability and labour. Workplaces must include a minimum of 2.2% (2% in 2013) disabled employees, yet the majority of companies in the country choose to pay a penalty rather than comply with this rule. There are exceptions however that offer positive and empowering examples which include people with disabilities.
I discovered Nihon Rikagagu Chalk Industries. Over 70% of their workers have disabilities. At the factory I observed a large team of hard-working specialised and productive staff. Any team of high-performing workers such as those at the chalk factory would be defined by their achievements and abilities. Yet, cultural attitudes define these people by what they are not able to do: by their disabilities. This is not however the only attitude Japanese culture provides.
In my research into Japanese legends I discovered the myth of Hyottoko, the god of fire. If Hyottoko were alive today, he would be labelled as a person with a learning disability: he failed to understand the instructions of every task he was given. He was asked to clean but he swept the ceiling; he was asked to pick citrus fruit but collected leaves instead. Everything changed however when he was asked to blow the fire and keep it ablaze. He did it enthusiastically and tirelessly, keeping his village warm while people were out, giving light and making it possible for everyone to cook. His work and contribution to his community were irreplaceable and immortalised in the mask we see today in shops, homes, on tattoos and in festivals around the country. Hyottoko might have faced difficulties, but was valued and remains remembered and celebrated for his gift of fire and his ability.
As I write this, a world pandemic has gripped our planet and we are suddenly faced by obstacles and our inability to continue with our daily lives the way we used to. All of us have experienced more isolation. Many people have become unwell, some have sadly been lost, and many communities have become poorer with worsened employment and life prospects. What can art and culture do in the face of such global disaster? In many ways, art is incapable of providing immediate practical solutions, but what it can provide is examples of care, empathy and compassion. Art offers insights into other people's ways of overcoming difficulties and hardship. In my projects, I have chosen to focus on human dignity and solidarity, and on compassionate empowering action in the face of adversity - be it unemployment or disability. Art allows us to imagine different possible, probable, desired and empowered futures. Once we capture these positive futures with our imagination, we can focus on making them real. That's what I feel we collectively need right now to face the challenges ahead.
---
Commentary by the Curator
Kataoka Mami (Director, Mori Art Museum)
Mikhail Karikis creates sculptures of the human voice, upon which he projects people's dignity. These sculptures have no specific form, and are only perceived through hearing. He states, "I often find language to be unreliable. While language and words are able to conceal something, the voice itself - its volume, tone, and what it implies, functions as a measure of one's emotions. The voice reflects a person's emotional world like an x-ray. In fact, by just listening to a person's voice I am able to tell whether they are physically in good health, as well as the state of their emotions."
Now that the pandemic has exposed the fragility and imbalances of the world's social structure, Karikis' attitude towards artistic production seems to have strengthened its very significance. That is, with the limitations of human-centered and economic-centered growth models pointed out, to take another good look at the land upon which we stand and aim for a society in which all life there is healthy and sound. We human beings as a part of the natural world are also required to listen to the voices of nature. What do the voices that are heard from Karikis' work have us think about in this day and age?
---
Mikhail Karikis Sounds from Beneath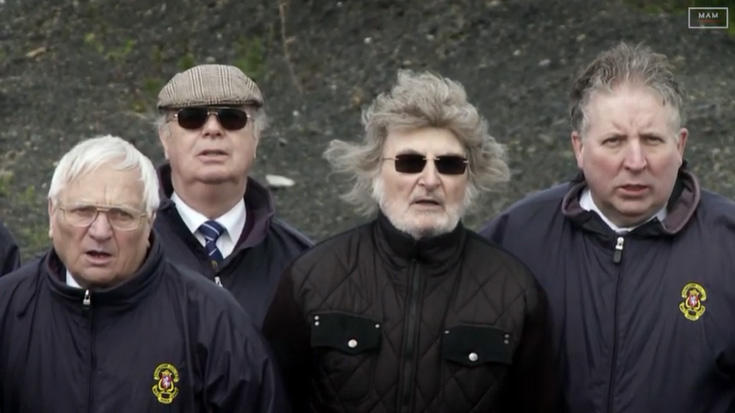 Sounds from Beneath centers around a sound work for which Karikis asked a community of a former coal miners' choir to recall and vocalize the industrial sounds of a working coal mine, which they used to hear when they worked in the pits. Karikis located the former Kentish coalmine where the men used to work, and upon completing the sound work he invited the artist Uriel Orlow to collaborate on a video which depicts the desolate colliery brought back to life through the miners' song. The sunken mine transforms into an amphitheater resonating sounds of former underground explosions, mechanical clangs cutting the coal-face, wailing alarms and shovels scratching the earth, all sung by Snowdown Colliery Welfare Male Voice Choir grouping in formations reminiscent of picket lines.
Commenting on Sounds from Beneath, the curator and writer Katerina Gregos highlights that "at once political and poetic, the film cuts through any expected conventional documentary realism and resonates with pathos dignity and emotional force. It functions as a salvaging of memory, an ode, a tribute, and a requiem all at once […] It captures the essence of the act of coal mining, while recalling the picket lines and intimating a strong sense of male identity and the solidarity of sharing a common purpose in work and song."
---
Mikhail Karikis Ain't Got No Fear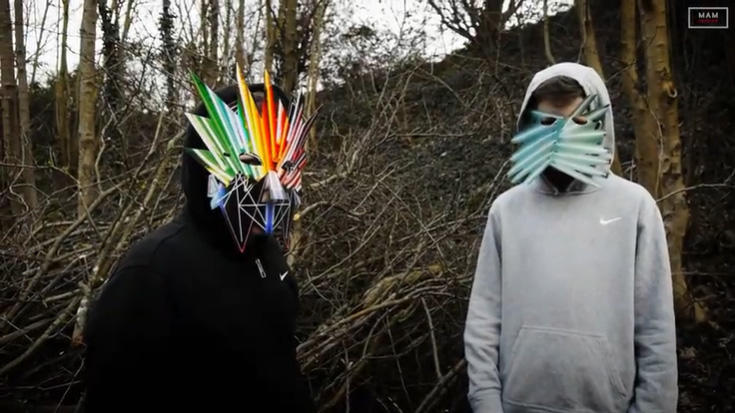 Ain't Got No Fear is a project which Karikis created with a group of teenagers who are growing up in the militarized post-industrial marshland of the Isle of Grain in southern England. In response to the isolation of their village and the lack of space for teenagers, in the last few years, kids have been organizing raves in a local wood, recently raided by the police. Using as their beat the persistent crushing noises of the demolition of a neighboring power plant, 11 to 13-year-old boys from Grain sing a rap song they wrote about their lives, recalling memories of being younger and imagining their old age and future. Reminiscent of a music video the film glimpses teenage experiences on the edges of urbanity by following youths to their secret underground hideaways and capturing their rackety reclaiming of the local site where raves used to take place. The project reveals a way in which industrial sites are often re-imagined by youths with a form of spatial justice defined by friendship and play, the thrill of subverting authority and evading adult surveillance.
---
Mikhail Karikis The Chalk Factory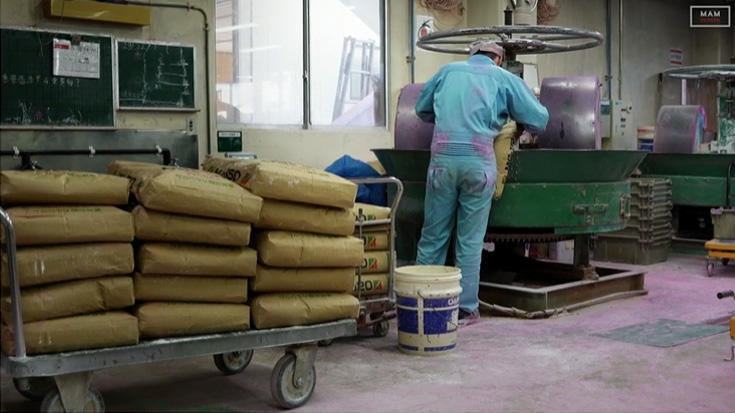 Special thanks to Nihon Rikagaku Industry Co., Ltd, Shibata Naomi, Kiku Day, Osaka Koichiro, Dr. Nicola Grove, Mitsudo Yumiko, Namba Sachiko, Spiral and the Yokohama Paratriennale 2014.
The Chalk Factory is a project created with a group of factory workers with learning disabilities in Japan. Built in the dense industrial outskirts of Tokyo, Nihon Rikagaku Industry Co., Ltd offered temporary internship to two teenagers with mental disabilities in 1959. The last day of the youths' internship was marked by a little-known but extraordinary event that changed the factory's identity and Japan's labor history. Workers reacted against the termination of the internship of their disabled colleagues, requesting permanent employment and emphasizing the benefits of including them in their team. Nearly sixty years on, the factory has a workforce almost 75% formed of people with disabilities. Karikis was inspired by the workers' historical action, which addressed labor rights for workers with disabilities.
For MAM Screen 010, Karikis edited an original ten-channel video installation into a single channel version. The soundscape ranges from factory chimes which conduct the day's activities, to industrial beats accompanying the workers' murmurs, their involuntary vocalizations and repeated soliloquies. These are interrupted by the cheerful dissonances of the workers' karaoke. The Chalk Factory foregrounds disability's own cultural history. The project observes productivity, the body and social function and raises ethical questions about disability and labor.
---
MAM Screen 010: Mikhail Karikis
Period: 2019.2.9 [Sat] - 2019.5.26 [Sun]
Organizer: Mori Art Museum
Curated by: Kataoka Mami (then Chief Curator, Mori Art Museum (current Director))
* Exhibition webpage: https://www.mori.art.museum/en/exhibitions/mamscreen010/