Online Screening of Mori Art Museum Collection: Yuan Goang-Ming
Screening Period: Tuesday, November 9, 2021 - Monday, January 31, 2022
The fifth installment from the Mori Art Museum Collection will be a limited screening of Landscape of Energy (2014) by pioneering Taiwanese media artist, Yuan Goang-Ming.
Yuan Goang-Ming started making works on video in 1984, and, has since become a pioneer of media art in Taiwan and one of the most internationally recognized artists. In 1997, he earned his master's degree in media art from the State University of Arts and Design, Karlsruhe (Die Staatliche Hochschule für Gestaltung Karlsruhe [HfG Karlsruhe]). Yuan's works are triggered by the memories of his father who immigrated to Taiwan from Mainland China in 1949, along with his own personal narratives - such as experiences, family, and home - of living in Taiwan. However, the symbolic landscapes and architectures that appear on the screen evoke more larger, universal notions of nation, history, cultural identity, and finally what it means for us to live and reside in a particular location.
Yuan Giang-Ming
Born 1965 in Taiwan. Lives in Taipei, Taiwan. Currently professor at the Taipei National University of the Arts.
Selected exhibitions include the 50th Venice Biennale (2002), the Liverpool Biennale 2004, the 7th Asia Pacific Triennale of Contemporary Art (2012), the 5th Fukuoka Asian Art Triennale (2014), Lyon Biennale (2015), Aichi Triennale 2019, and his solo exhibition Tomorrowland held at the Hayward Gallery (London, England) in 2018.
---
Yuan Goang-Ming Landscape of Energy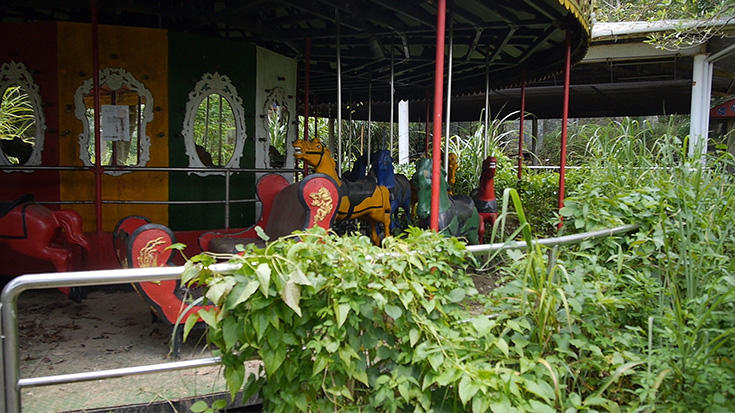 Production of Landscape of Energy began as Yuan Goang-Ming's investigation into Taiwan's nuclear power plants after the Fukushima Daiichi Nuclear Power Plant Incident of 2011, and the many scenes that appear in the work were filmed in Taiwan. There are three nuclear power plants currently in operation, one of which is located only 19 kilometers away from the artist's home. The elementary school in the work - located on Orchid Island where the indigenous Tao community reside - has become the grounds for protestors demanding the removal of radioactive nuclear waste stored only within walking distance. In another scene, we see nuclear reactors lurking in the far background of a crowded beach, and, further beyond the ocean in the distance, Tokyo's Bay Area faintly appears and disappears. The conditions surrounding nuclear power plants in Taiwan is recorded in documentary format, while at the same time, many of Asia's large theme parks and residential areas left in ruins are beautifully filmed with the use of a custom made cable-cam. While the many motifs and scenes in the work capture the real and current landscape, they also seem to foretell a precarious, dystopian future that lies ahead.