Takashi Murakami
In the otaku (geek or fandom) culture that flourished during the bubble economy years of the 1980s Japan, Takashi Murakami discovered a unique Japanese sensibility that has continued since the Edo period (1603-1868). Advocating a theory that he calls "Superflat" based on this sensibility, he creates paintings and sculptures featuring manga and anime-style characters. With its flat planar quality, richly colorful ornamentation, bold compositional arrangements, peculiar deformations, and highly playful imagery, his work expresses a spirit that has pulsed beneath the surface of Japanese culture from the "eccentric" painters of the Edo era through to contemporary manga artists and animators. At the core of Murakami's practice is a commitment to establish within the global art world a discourse specific to the history and culture of Japan. In order to realize this, he recovered an aesthetic suppressed by the introduction of European art systems in Japan, and has endeavored to express postwar Japanese identity through various projects. The necessity he felt to evince a Japanese "reality," rather than to follow the vogues of Western art, became the basis for rooting his work in Japanese subcultures. From 2000 to 2005, he curated the "Superflat Trilogy," a series of exhibitions embodying his artistic vision in Japan, Europe, and the United States, and achieved renown worldwide.
This exhibition presents his early work to the enormous demon sculptures and most recent video work that were produced in response to the Great East Japan Earthquake of 2011. In Miss Ko² (Project Ko²) (1997), Hiropon (1997), and My Lonesome Cowboy (1998), which render two-dimensional characters into life-size three-dimensional figures, Murakami exaggerates the desires latent in Japanese mass culture in an attempt to critically interpret that consciousness. The large painting Cherry Blossoms Fujiyama JAPAN (2020) created especially for this exhibition is an ambitious work that ironically depicts painting as a tourist attraction.

---
Profile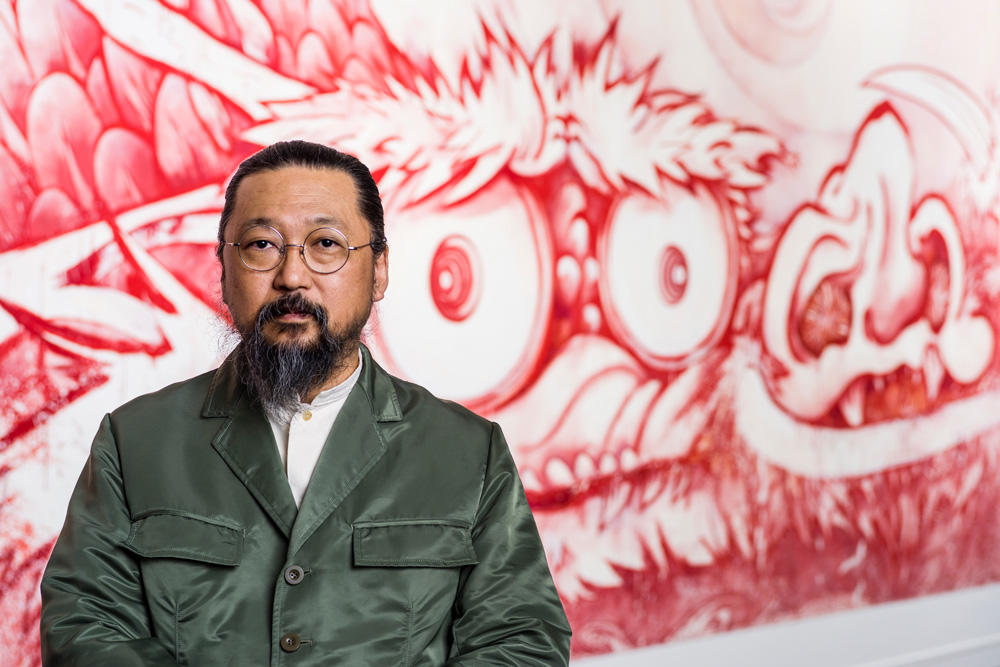 Born 1962 in Itabashi, Tokyo. Murakami's "Superflat" theory reimagines the sources of traditional Japanese painting and contemporary art through the visual logic of anime and manga. Murakami has created many characters that are reflections of otaku culture, such as Miss Ko² and Mr. DOB, producing sculptures with a high kitsch factor and hyper-two-dimensional paintings that represent the polar opposite of Western perspective. His cultural theories, which are based on Japanese subculture, do not only dismantle hierarchies between high and low, but they offer a critical depiction of the postwar Japanese psychology, establishing a uniquely Japanese discourse in the context of globalizing art scene. His collaborations with Louis Vuitton and activities that have focused on street culture and contemporary ceramics continue to win him new audiences around the world that transcend the domain of contemporary art. The final installment of his "Superflat Trilogy," the exhibition Little Boy at Japan Society (New York) curated by Murakami himself in 2005, won the Best Thematic Show by AICA-USA (International Association of Art Critics United States). From 2007 to 2009, his first retrospective exhibition, ©MURAKAMI, traveled to four cities in Europe and the United States, including the Museum of Contemporary Art, Los Angeles. Since 2010, Murakami has held solo exhibitions around the world, including the Palace of Versailles, the Al-Riwaq Exhibition Hall, Doha, the Mori Art Museum, Tokyo, the Garage Museum of Contemporary Art, Moscow, and Tai Kwun Contemporary, Hong Kong.